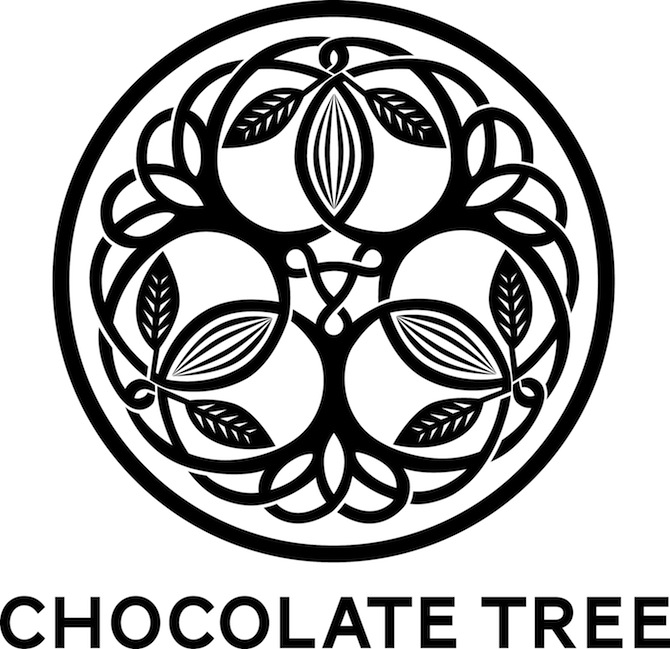 Impact
Driving the backroads to a sister's wedding north of Inverness, Scotland at the Royal Dornach Golf Club, the air there both felt & looked etherealized / alchemized in sync with that now-standard wing mirror warning 'objects are closer than they appear.' Strangely, they also appeared simultaneously farther away too.

The cruising speeds around those parts averaged about 100 MPH which proved far too restrictive to Ferraris & Lambos that suddenly approached in the rear view & just as abruptly carved a square-tooth around the wedding Benz, passing it, & rapidly vanishing ahead into the countryside.

Message to self: next time rent one of those.

In keeping with the landscape & the place where men wear kilts, this box from Scotland is a bit off kilter as well.
Presentation 4.1 / 5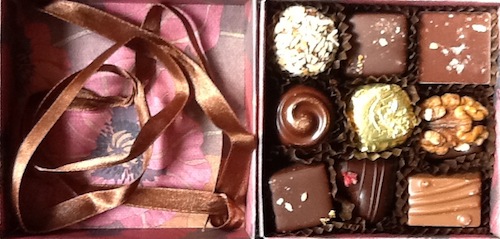 fin-de-siècle Victorian dress & so fussy in their clean feet, well-groomed, & neatly pleated pieces
filled molds topped by hand, a couple enrobed, flush caps & lids
Aromas 3.3 / 5
everything but the chocolate
fusty & musty… marmalades, nuts & heavily imprinted cardboard "fragrance"
Textures/Melt 7 / 10
| | |
| --- | --- |
| Shells: | standard |
| Centers: | proficient |
Flavor 37.6 / 50
generic save for the Scottish Collection (
Venison & Rowan
;
Heather Ale
;
Whisky
, the traditional
Haggis
) which the house, unfortunately, omitted probably on account of regional considerations (Yanks can't handle it?)
divergent flavorings with but few meshes & meldings
Hoarding the Good Stuff?: homegrown luv -- the Aphrodisiacs & Scottish specialities -- left out for the most part in this shipment to the USA
Quality 20.8 / 30
The ancillaries (presentation / packaging / fit 'n finish, etc.) standout above of the interior character of the contents (Flavor).
Selections
Trio of Nuts
-- whole walnut stud sits atop
Dark
robing with caramel beneath; quite the elaborate construction for what boils down to a lightly-sweetened nut… ah, yes, how it draws out the essence of walnut by understating the other ingredients… an example of 'more = less'
Passion Fruit & Coconut
-- sharply layered / sequenced coconut -> grape-inflected choc -> tart passion -> &, oddly, mint which throws the sphere out of orbit
Salted Caramel
-- a runny affair… wear a bib; heavy sugar, butter scotching & salt, in that order; take no prisoners / make no excuses gob smack
Hazelnut & Coffee
-- firm meltaway… lasts ages; conventional
Flavor Profile
; the manner of its dissipation however &, moreover, the melding of its components rises to the level of high physics as the nut oils (both filbert & cocoa) subsume coffee completely (to the point of wondering whether it was forgotten in the mix) which in turn gives them depth in a payback scheme; other than the indiscretion of a hyper-sweet
Milk Choc
, a brilliant piece
Raspberry & Ginger
-- heart-shaped; dairy-free which may explain why this comes unhinged from its shell & the parts disengage only to reconcile in a black cherry cordial union; an ultimately trying interplay
Orange & Salt
-- plenty of zest, lightly saline with an alchemical admix that conjures a bittersweet almond; unique
Origin
-- part of the "Purist Collection" of
The Chocolate Tree
repertoire or a
pallet d'or
anywhere else; heavy, pondering profile…. big dried fruits (both brown & purple) with a meaty, dare say, Haggis-like underside at odds with its sumptuous / sinking texture; stark
Honey & Almond
-- swirl-top mold invites a messy first bite then this thick, unctuous & serpentine piece beguiles on several layers in a swell orchestrated array of balanced forces to evoke an upscale PB&J
Gianduiotto
-- wrapped in gold foil which sticks to the soft moist truffle within; full-on hazelnut, a little weak in chocolate, but strong with sugar (protect the teeth if possible); a crowd grabber
Reviewed August 18, 2014