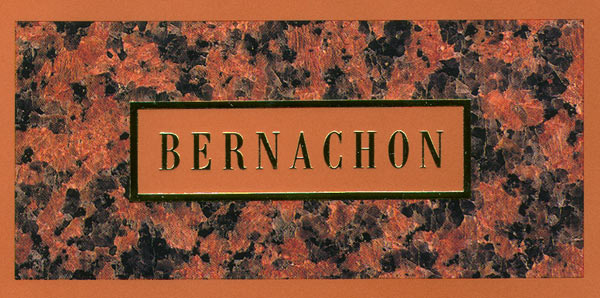 Impact
Kindred spirit of that other giant from Lyon – Rabelais, author of tales about Gargantua & Pantagruel, & their posse of drunk monks chiding the gods & radical rogues scoffing at back-rent in pursuit of eat-drink-&-be-merry.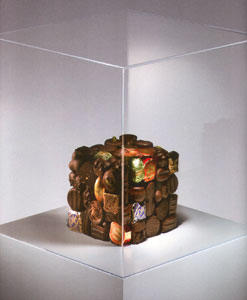 Presentation 4.1 / 5
unassumingly plain & simple w/in that ubiquitous French elegance (coral-gold box, or boxes really, 1 encased in the other like some Tut treasure); inside a galaxy of colors & shapes tightly wedged as if the Milky Way collapsed on itself, accordionized into a fractional corner of the solar system; no molds – all hand-enrobed of good if humble appearance
Aromas 4.4 / 5
vibrant, tropical force lubed w/ nut butters + a tannic chocolate vapor
Textures/Melt 9.3 / 10
| | |
| --- | --- |
| Shells: | delicate |
| Centers: | thick cream & butter ganache of substantial bodyweight & still catches air; micro-crunch on the nut / pralinés, & liqueurs can run soppy wet |
Flavor 42.7 / 50
tosses nouvelle cuisine in the sink & throws back to the dense calories of chocolate, sugar, butter & cream – thick & heavy; generally center-point flavor but a little too sugar-happy & vanilla-driven; when bang-on, you're defenseless (truer / purer chocolate numbers – Palet d'Or, Classic Truffle, etc.) but the house also produces some off-beats (alcohols for example)
Quality 27.2 / 30
The taste of integrity... spirit of old lion of Lyon lives on in the young'uns who continue the grand tradition. From start to finish, everything done anachronistically in-house, including sourcing & selecting for themselves the very cacáo beans used in their chocolate – 20 tons of it each year. No short cuts here; all's done the time-honored way, thru lifetimes of apprenticeship.
Selections
Palet d'Or - decadent devil's triangle of super fresh cream & tartly tannic cocoa conjuring up phenomenally sweet raisin notes; house specialty & cause célèbre that all chocolate should be this level
La Boule - thin Dark on thick Milk, rolled w/ praliné, contrasting supple sensuous texture draped in ample choc-nut flavor; a baller
La Nougatine - ultra-deft roasted almonds pulverized into a sweet creamed vanilla-heavy caramel
Almond Praliné – Dark-on-Milk, micro-crunch interior, synergizes a chocolate wafer
L'Aveline - special individually-wrapped foil; lucid hazelnut, rich in its own oil, streaming thru relatively hi-sugar chocolate
Gianduja-Fruit strawberry confit softens hazelnut to provide conduit for chocolate in balancing out the profile to an equilibrium between elements; next to the Palet d'Or, Bernachon's most supple rendering
Le Créole - marzipan & currants just doused in rum, adding fuel to the fire; way hot & 1 of the few unsuccessful pieces
Le Pacha - a cream cup, literally... the only solidity being the nut ensconced on top
Café - no prissy demi-tasse; straight-forward, full-city French roast – deep, dark & oily