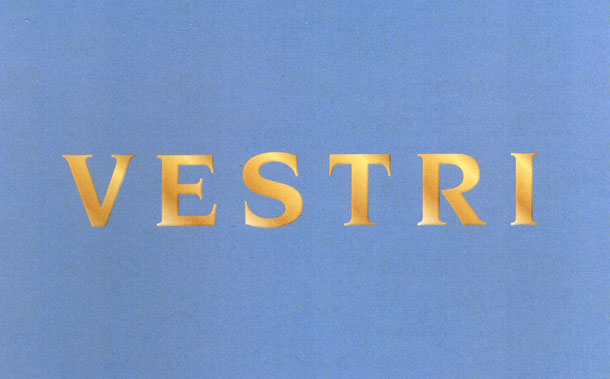 Impact
Italy's Danielo Vestri visited NY City. He was the guest; we were supposed to be the hosts. He brought these along - damn generous of him - giving proof to the Hieronymite monks' belief (practically the same one found in shaman huts/offices the world over) that hospitality is the most expressive form of charity.

Chocolate philanthropy; possibly does more good than the Gates Foundation & the Clinton Initiative combined.
Presentation 4.6 / 5
spare, clean, & lots of air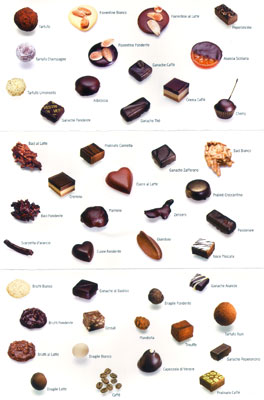 Aromas 5 / 5
a rarity in the world of boxed choc: predominately cacáo butter -> followed-on by nut oils
Textures/Melt 8.8 / 10
| | |
| --- | --- |
| Shells: | variable / piece-dependent: from pavés of thin skin w/ unparalleled power snap to barks & rochers where the shell melts right into the body of the piece |
| Centers: | likewise variable / piece-dependent: fluid silk to macro-crunch |
Flavor 44.2 / 50
intriguing mix of complimentary & contrasting profiles that, with few exceptions, approach equilibrium though most often tilts in favor of infusions, & some running a little past sweet
Quality 27.1 / 30
That ineffable Italianate (more specifically Tuscan) sensibility of true lightness & rich fullness - simultaneously. Achieved primarily by letting elements speak for themselves, which they do in volumes.
Selections
| | |
| --- | --- |
| Couverture: | mainly in-house |

Chili Caramel
- pepper acts as a tiny bunsen burner caramelizing the action, warming it to wood & licorice tones; sensational
Grappa
- Dark Choc dissolves right into a fresh pour of Grappa & the 2 kick it out from there - the confluence a plum-anise brandy; phenomenal
Rosemary-Thyme
- complex-cities; soft caramel gives rise to herbs flying all over the yard, backing into a Dark Choc of tannic force evincing molasses
Ginger
- crystallized; laser sharp, just ripping the buds apart, at a strength where chocolate hardly matters, as the spice never goes away... for days; mothers, wash your kidz mouth out w/ this... they'll luv ya, forever
Nut Stack
- a meta-praliné; chopped almonds dipped in melted Milk Choc gianduja
Hazelnut
- ground filberts surrounded in a Milk Choc disk; a frisbee for snack addicts to throw-down
White Hazelnut
- the White Choc edit of the above; a bit too sugar-happy but compensates by laying the cacáo butter on as though this were a tanning lotion for the tongue; testament that Vestri lives in the light, his very face a sunburst monstrance
Pistachio
- another piece of sugar-glee until the very end when the nut oils catch & coat the sweetness
Gianduja
- shaped in a upturned hull of weathered light-colored taupe; fresh, dense, & richly concentrated hazelnut meat, butter, oil, & skins interconnecting w/ cocoa-cream on the inhale; sugar progressively dissolves into soft hazelnut thru thick silken texture & tender melt to verge on sickly sweet
Sultana Bark
- wrapped in Dark Choc, raisins screaming at full concentrated pitch before coffee-inflected cocoa tones it back in the mix for combined fruit-taste that hangs out in
Venezuela
& could've come straight off the