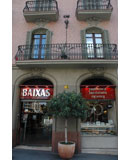 Impact
Worshipful. When the chips are down, bring this to play because if there's one box to save your life & cheer you up the way Elvis can cure the heart's blues, this may be it. Occasionally surreal, in keeping with Baixas' pride & joy: the
Daliniana
(1972), the only chocolate box ever signed by the divine madness of Salvador Dalí himself - making it both collectable & auctionable.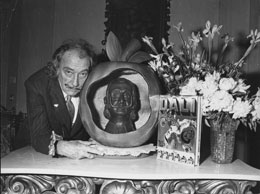 Trick vapors coming off these ballistic pieces can alternately fire up or water down, & confuse like Poe's
House of Usher
engulfed in... is it fog or smoke?... echoing the Ch'orti' Maya living in eastern Guatemala who ceremoniously work with cacáo in their
oratorios
(spirit-houses) & burn copal incense in them, the smoke symbolizing rain clouds, under the M.O. 'why fetch water from a spring or river when you can call on the rain gods'.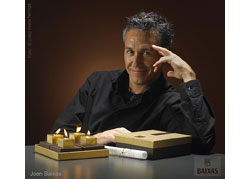 Joan Baixas
Presentation 4.9 / 5
a valise & veritable pistol case housing the ammo; printed vellum menu; mix of molds & enrobes, in a plenary of shapes & sizes + scored designs & colors making each unique, however imperfect, some of the Fit & Finish
Aromas 4.8 / 5
triple layer of mummified packaging can't hold this back: chocolate... plus extremely transparent infusions to get the heart racing
Textures/Melt 8.2 / 10
| | |
| --- | --- |
| Shells: | soft & very little snap; medium-thin |
| Centers: | thick & condensed... no Belgian or French air pillows here; this is tangible & toothsome fill material |
Flavor 47.3 / 50
honest & true; intimidating range steeped in the serious Classics yet unafraid to break the mold & work outside the box mastering New School moves as well; refined, well pronounced, w/ measured sugar (perhaps a tad sweet in parts), & unreal equilibrium (the progression among more notable pieces trend to evolve toward high-level integration & extremely advanced interplay)
caveats: not altogether chocolate – occasionally too much pastisseria side of the business creeps in, leaving hardcore chocolatarians a little starved - but never abandoning cacáo or smothering it either, in the way of, say,
Blue
; could stand to upgrade the couverture employed (primarily Callebaut)
Quality 29.1 / 30
What it's about. A joyería (literally 'jeweler' in Spanish) but encompassing all manner of luxury goods. Not for company; private reserve only. Intensely creative if a little high-pitched in places. The kind of box that causes genuinely deep reactions – well beyond Kenneth Cole ad campaigns - opening up the senses.
Selections
Raiz de Regaliz - slow developing study on opening a bud of cocoa onto licorice, their dark-on-dark symmetry an enharmonic unison – that's how impossible it feels - & together blacken cream in the very act it lifts them up just as had Christ accepted Satan's 2nd taunt in the 3 Temptations & jumped to let the angels catch him
Pasion - phenomenal orchestration; passion fruit nested in a nougat center to mellow its brassy notes into a kind of Dragon's Eye berry until roaring back in a blaring finale
Sesamo - White Chocolate on sesame paste, basically massage-quality butter-over-oil for that sensuous super unctuous
Peta Z - multi-sensory; crazy rock candy... the exploding fizzy w/ loud popping bubble-wrap in the mouth infuriates a fairly standard praliné flavor against a hailstorm of micro-crunch; hi-test candy for Nickelodeon kids
Palet d'Or - undulating waves of cocoa honeycombed into chocolate by suga 'n cream; plain, simple & direct w/ just a murmur of reverberating back tannin bitter (mixed in though w/ an alkali tickler possibly from cocoa powder); still, quietly powerful in its classicism
Epicel - salt 'n pepper ganache... the latter taking the lead to conjure up a potpourri of sweet spices & indelible flowers of high level meta-flavors rocking way off the charts; transformative w/o ever losing sight of its roots
Paillette - raw, unroasted praliné; plenty of grinding texture yet softer, leaner, & oddly more confected than heavier traditional versions
Cacauete - another crunchy trail, this one over peanuts in Milk Chocolate; hi-brow Snickers right in the pocket
Kiko - White Chocolate dome housing salted-corn crunch; buttered popcorn porn essentially, literally & figuratively