Impact
An entire countryside in a bar. Best reaped while reading Wendy Johnson's collection Gardening at the Dragon's Gate: At Work in the Wild & Cultivated World.
Appearance 4.4 / 5
extra attn to detail
| | |
| --- | --- |
| Color: | medium buff-brown |
| Surface: | scratch-free plate backed by squiggle designs |
| Temper: | ghostly shimmer |
| Snap: | snub to belie a densely packed edge wall |
Aroma 8.6 / 10
kindly but unusually
Dark
for
Santander
; its the cookie-dough FXs... all gone, replaced by forest floor roots & fungi -> bramble of gentle climbing vines on soft woods -> poor man's parasol (
Gunnera insignis
) from the cloud-forest -> puya greens misted in black garlic & sweet Vadalia onion -> supple leather -> breathes out chocolate smoke -> falls back coffee
Mouthfeel 12.7 / 15
| | |
| --- | --- |
| Texture: | slow to grow &, despite lecithin, stays sleekly padded |
| Melt: | fluid to floetry to a thin film astringency |
Flavor 46.6 / 50
opening salvo cherry-cordial passes quickly to cocoa -> traditional
Colombian
marshmallow -> hibiscus underlined in bitters produce snapping coffee beans -> almond incredibly cracks, then pounds into hazelnuts (practically gianduia level) -> fruits away briefly on a trill of passionfruit + a stitch of borojó (the combined effect a guayabilla) but the nuts just too resolute, especially filberts, now drenched in cups of Juan Valdez coffee... good to the last drop... charred after-math, reminiscent of
Santander's Oreo™ days
Quality 17.8 / 20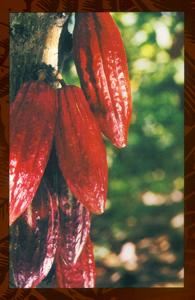 Santander
stepping up its game (like everyone nowadays).
Aside from abandoning vanilla in the formulation, the company increases the percentage (75% its highest cacáo-count to date though the
70% with Nibs
approximates the same weight) & proudly announces the vintage - 2008 - right on the label, going beyond
Valrhona's Grand Cru decorum
.
Fairly linear progression with decent vertical stacking; good range from innocent (popping cherries at the opening) to wild (mid palate tropical fruits) & refined (unctuouusly meaty hazelnuts). Coffee bites a little high & wide to obscure, then supplant, core chocolate flavor & steals away a few wow-factors; this bar clearly going for the roast (underbelly bitters run the entire length... nothing really tremulous, seen most clearly in the charring of the post-taste, by now a house staple for the label) to generate all that café & those Maillard reactive nut tags.
Turning down the temperature some would've spared more fruits at the expense of those nuts but that's just the trade-off made in the heat exchange.
Overall: pretty clean lines, sharp angles, & flowing melt. With clones & hybrids taking over larger swatches of landscape in the country,
Colombian cacáo
still has its bones.
ING:
cocoa mass, sugar, soy lecithin;
CBS
(Cocoa mass/Butter/Sugar ratio) ~3/3/2
Reviewed Summer 2009