Impact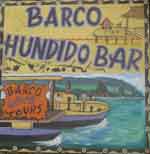 Forget the sound of Boca del Toro ("bull mouth") cacáo, grown on the outskirts of Bocas Town - a party hang of Euro-Gringo sunbirds often congregating at
Barco Hundido
, a watering-hole built atop a sunken ship.
This chocolate runs easier than a sand bar along the many beaches of
Panama
, after checking into the Bambú Hostel located in the San Mateo Abajo neighborhood of the deceptively quiet town called Davíd (pronounced 'da veed') with its 24/7 casinos, clubs & brothels where Gregi San runs the show, ex-axe man for
Rake's Progress / Booga Suga
& all-round bad boy Jailblazer who broke in & out of
Airtech.com
(the online travel pioneer to the intrepid that flew standby-flights at shockingly low airfares in the alt-travel world; e.g., $169 to Europe).
Airtech earned a cult-like word-of-mouth following among the concrete canyons of NYC, the windswept byways of the Bay Area, plus the drizzle-spattered neighborhoods of Seattle, as well as universities across the USA, thru their patented in-your-face /slap-you-upside-the-mug poster assaults. They sent out street squads that went straight for the jugular, posting guerilla-marketing sheets that reached audiences where they live. It all started with a poster blitz papering NYC - "If you can beat these prices, start your own damn airline" - that got the attention of Geraldo & JFK Jr. before they got their own planes.
Or how about this now-grim gem from pre-9/11: "Only terrorists can get you there for less".
Sure the mayor cracked down, but hey, making omelets means nuking a few eggheads.
Real Ad cajones.

Along the way, the A'tech discovered its core of world travelers has an enormous appetite for global events, parties, & happenings. It forayed into the High Times Tour, the annual festival of peace, love, reggae, & hemp hits in Amsterdam, producing the entire event & hosting over 3,000 music & cannabis cognoscenti from stateside to Holland. In November no less. Trust this: not too many hook-ups send a couple thousand people to Holland at that time of year.
The first urban poster campaign for that notorious A'dam gathering featured one William Jefferson Clinton with his mealy-mouthed grin & the caption "Inhale all you want." They heard from the White House (which, officially, was not amused; or at least that's what they professed). Secretly POTUS must've been flattered -- WH staff would end up attending the event.
So successful, they developed additional reasons to meet the needs of mad ventures & party-hungry clientele. Among them,
Spring Bake
, a customized set that put a new spin on an age-old rite of spring—the mid-March college break. Instead of the beaches of Florida, however, it's Jamaica... March madness of the purest sort.
Soon followed treks in the remotest reaches of South America. A Venezuelan Safari: an ultra off-the-map trip thru cloud forests, down Class-5 rapids, & over the Andes flush with fauna so wild naturalists thought it extinct until recently. On the last day, the check-out meant either paragliding or bare-footing the surreally sand-carpeted mountainscape of
Pan de Azucar
- the only sheer vertical dune in the Americas.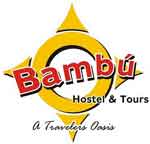 Today Gregi San lounges pool-side back in Panama at the Bambú, a chillout rancho replete with hammocks & raw food/living-food seminars, plus improvised music jams opposite the numerous
Feria Patronal
(Patron Saint Fairs) featuring gallons of liberally-drunk rum - the starter fuel for massive Latin raves beginning around 8PM & lasting until at least 5 the next morning.
Call beforehand to see if
Herr Zotter
has checked in with, this, his latest cocoa cargo. Gregi will know... well before Chocosphere, Food Emporium or Love & Chocolate (if they ever carry it there).
And speak Mandarin for extra VVIP treatment (he can talk like that).

Reflections on everybody-in-the-pool Bambú
| | |
| --- | --- |
| Color: | ochre brown |
| Surface: | scuffed |
| Temper: | soft sheen |
| Snap: | b-b gun pellet; perfectly smooth edge |
Aroma 8.1 / 10
very cocoa-nut (choc, light walnut & coconut) -> leather beneath -> chayote / apple -> spiced-fig tickler
Mouthfeel 11.7 / 15
| | |
| --- | --- |
| Texture: | kind of coagulant; slight grain |
| Melt: | stop 'n go action |
Flavor 44.8 / 50
warm roasted cocoa -> walnut brownie w/ fig spread (excellent) -> partially numbing sichuan on the lower lip -> background plantain -> chayote accented by salt triggers a series of chocolate bangs w/ delicately fruited pulses (sweet contrast) -> ends in endless brownies; cashew-apple the after length
Quality 17.6 / 20
Nothing special; nothing whatsoever objectionable either. Pretty on-point / right on-location for the origin.
Panamanian cacáo
delivers few highlights – its DNA on the meager side – endowed however with a generally even temperament & a sort of unique character in how it pings away with softly ringing fruit, noticed also in
Theo's similarly processed version
.
The parity among components here (including Zotter's signature salt) positively gratifies.
This bar annotates then elevates them to the nth degree.
Tremendous symmetry & cohesive structure (if somewhat the down-scaled side), giving credence to
Zotter's
claim that he processes with complexity at continuously varying temperatures in the roast & conche cycles. The taste shows.
A Panama worth exploring.
ING:
cocoa mass, cacáo butter, raw cane sugar, salt
Reviewed Summer 2010