Impact
Murder City
author Chuck Bowden sums up Juarez,
Mexico
(north of Chiapas, thru which a straight arrow connecting them could fly on to LA) & the cartel there with a) death is the only fact (all else an uncertainty) & b) the general violence feels oddly relaxing... as oddly relaxing as a dying man lurches into a prayer attributed to St. Francis d'Assisi:
make me an instrument
where there is hatred, sow love
where there is injury... pardon
doubt... faith
despair... hope
darkness... light
sadness... joy
divine master grant that I not seek
to be consoled as to console
to be understood as to understand
loved... as to love, for
it's in giving we receive
in pardoning we're pardoned
& in dying we're born
A weirdly relaxed chocolate seeking resurrection by its end times (& attains it in its afterlife), sourced from CASFA (Centro Agroecológico San Francisco de Asís).
| | |
| --- | --- |
| Color: | cool dark brown |
| Surface: | super-hygenic save for grease splatter on back, otherwise nary a pinhole on this Mayan-motif of a mold (same as Danta's bars) |
| Temper: | thin veneer sheen |
| Snap: | Lego set; porous cake edge |
Aroma 8.9 / 10
old growth / old money: warm cocoa + breadnut based in sap-exuding maple wood & mahogany -> coconut shells -> white sapote lightly sprinkled w/ Mexican tarragon (Tagetes lucida) & pepperleaf aka hoja santa (Piper auritum)... think anise, sassafras, molasses... taken as a whole almost a chocolate-soaked capirotada -> aerates black cherry, then a sticky gaunabana
Mouthfeel 11.2 / 15
| | |
| --- | --- |
| Texture: | powder dry |
| Melt: | slickens up as lecithin takes over |
Flavor 36.4 / 50
cocoa teetering on a raw underside (soybean & sheetrock) -> molasses landslide over vanilla -> sapote & spices gleaned in the Aroma come to the fore -> longer progression goes toward fig & cashew but, alas, the soy front now trails in as talc & chalk backed in birch
Quality 14.8 / 20
Though Prof. Nat Bletter (ethnobotantist, culinary guide, musicologist; see Chapter 1 of Cameron McNeil's
Chocolate in Mesoamerica
) has experimented with
cacáo
for years under various labels (
Oaxacolate Chocolate
and
Pure Origins
to name two), this bar inaugurates the
Madre
brand with partner David Elliot. A "base bar" to platform its sundry chocolates containing indigenous flavorings of Mesoamerica.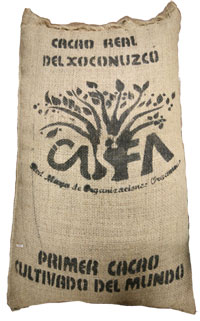 Sourced from the same co-op as
Taza's Chiapan
– the Xoconochco CASFA (
Centro Agroecológico San Francisco de Asís, S.A.
). CASFA's producers are distributed about the montane: from coffee-growing areas above Tapachula & Huixtla down thru the flat coastal plane. The centennial of Mexico's revolution coupled with renewed interest in heirloom cacáo has revived efforts to manage their genetic resources via selection in order to avoid the introduction of clones being pushed heavily by the local university & government tech offices.
Some members therefore hold to their inherited heirloom varieties, although hybridized nonetheless, among an wider eclectic mix of cacáo pods. Locally-recognized varieties include:
Acinturado
(with a thin "waist" at the top of the fruit);
Lagarto
(alligator like skin with a long point & the closest thing nearby resembling old growth
Criollo
);
Calabacillo
(small, round with intensely bitter beans), & the ever-ubiquitous
Amelonado
(smooth, rounded pods).
This diversity of genetic stock extends also to growing techniques & social conditions in the 6 municipalities where the co-op operates. So unlike fincas / estates such as
La Joya
(which is more or less genetically homogeneous), few allotments shipped by CASFA are created equal. Madre reportedly obtained seeds from specific locales / producers as per its own requirements/preferences, then further detailed this bar with more Mexican accoutrements (Tabasco CACEP cocoa butter + Chinantla Oaxaca vanilla).
Perhaps so yet similarities with Taza abound.
Theirs 75%
, roasted at ~240ºF for 45 minutes & unconched; this, though less 'Old School' similarly fits the bill as it drops in at 72%, barely roasted, & conched in a small Santha unit for 72 hours to what feels somewhere in the 30 to 40 micron range (most refined chocolate makers deliver 20 or below). The differing calibrations offset & compensate each other (indeed practically equalize one another) in such a way that both deliver sub-rendered profiles & powdered mouths.
Genuine home-ground chocolate that grows well on the senses in the aftermath... well past the under-riding sheetrock F/Xs in the actual taste.
ING:
cocoa mass, sugar, cacao butter, vanilla, lecithin
Reviewed January 2011