Zurawina
by
Chris & Tom / Manufactura Czekolady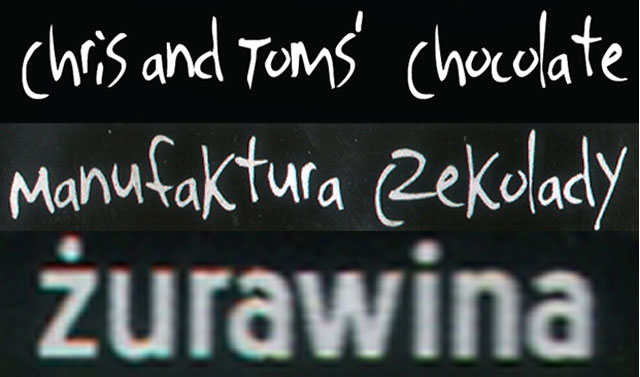 Impact
The EU, or European Union, strives valiantly thru various laws, protocols & a common currency for "harmonisation" of its member states. Despite its best efforts the continent remains rather fractured. Underlying the veneer of a united front reside deep-seated nationalist tendencies that stem beyond politics to form the bedrock of each nation. A sort of identity, character or personality trait: German engineering; French culture; Irish literature to give a flavor of just a few.

For the Poles, theirs might be the dance. Consider the Mazurka made famous by Chopin, the Karakowiak &, of course, the Polonaise.

This bar blends a bit of all of them to kick up a romp-like polka... & the berries in it are more than mere dots.


| | |
| --- | --- |
| Color: | cranberry-brown of course |
| Surface: | splat with gummy-dried berries |
| Temper: | good gloss |
| Snap: | bonded adhesive |
Aroma 7.9 / 10
the confluence of chocolate & cranberry form some barking wood of a cocoa-stained countertop displaying, incredibly enough, a strawberry paté
Mouthfeel 11.8 / 15
| | |
| --- | --- |
| Texture: | sticky powder |
| Melt: | discom-glob-ulated |
Flavor 46.9 / 50
floral to cranberry ocean spray ->
this Dominican chocolate
with its own resident fruits of sapote & tamarind just stacks all of the preceding onto a tree of gorgeous rosewood -> almond crown
Quality 18.3 / 20
Layered complements, now a hallmark of Chris & Tom's flavor complex -- the masters of matchups / mashups in which nothing clashes or collides & everything plays nice to join together into a tremendous vertical stack.
The difference between this &
Chris & Tom's Imbir
is one where ginger accents the chocolate in that bar while cranberry & chocolate conspire to lose each other here.
Cacáo
tannins curb the sweetart berry just as it softens them. Once subsumed in one another, their combined effect is of neither of them & yet greater than both.
A compound that forges a taste that can rarely be found in nature.
ING:
cocoa mass, sugar, cranberries
Reviewed October 26, 2011