Imbir
by
Chris & Tom / Manufactura Czekolady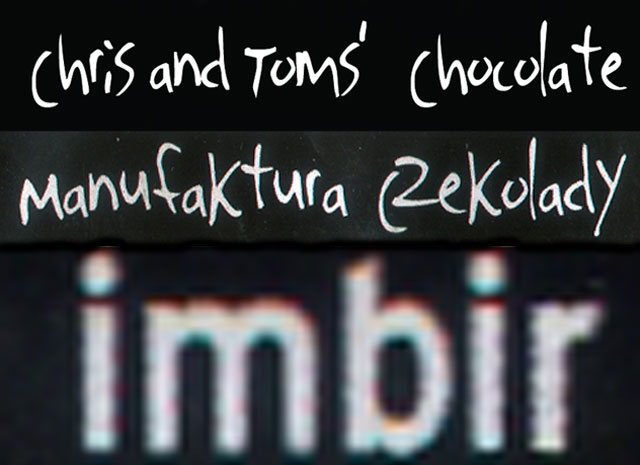 Impact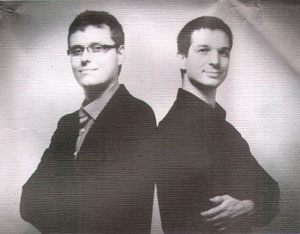 Smart paring by Tomek Sienkiewicz and Krzysiek Stypulkowski (anglicized Tom & Chris), aka the duo
Manufaktura Czekolady
(literally 'Workshop Chocolate').
These 2 schoolmates from Ceglow started on a similar career path as
Amano
and
Tcho
& shoved their day jobs in the I.T. sector as code programmers & design analysts to become Poland's first choc 'n roll stars that might've made Steve Jobs envious (R.I.P.).
For lost amidst all the tributes to Jobs' vision is his true insight in acknowledging that at the heart of it technology changes nothing. That's right, Steve Jobs / Mac Genius pronouncing it loud & clear in the face of all the hubbub about innovation, advancement, hi-tech, etc. That the fundamentals are... well, still the fundamentals. Always have, always will be (probably).... in terms of our humanity.
This bar serves as yet another illustration in point.
Auto-didactic / self-taught thru reading & research, Chris & Tom earned their experience the hard way – in the home grind of late nights & weekends toiling way.
They applied all their computer background to regulate the process & systemize the approach... for a rough flavor intensity that harkens back to, in their own words, "a century ago". Very much in kinship with
Steve De Vries'
motto:
100 Years Behind the Times
.
Fitting... for chocolate, which has been
on top of the flavor scale for centuries now
, & ginger, a lure that set mariners sailing on far distant voyages to obtain it to spice up their bland tables back home.
Chris & Tom (C&T) -- these guys know a thing or two even if it's just that old
vérité
that '2 heads are better than 1'.
| | |
| --- | --- |
| Color: | chalkboard brown |
| Surface: | uneven & irregular, a freeze-frame of the money-shot stopped in mid-motion |
| Temper: | glazed |
| Snap: | an adhesive cringe as the ginger pieces cling to the edge wall |
Aroma 8.2 / 10
ginger serenely tucks into a finely-fired cocoa-sapote batch
Mouthfeel 12.7 / 15
| | |
| --- | --- |
| Texture: | new sensation in chocodom: gummi cream |
| Melt: | slightly discombobulating with some swell at the finish |
Flavor 45.1 / 50
picks up right with the Aroma's downbeat: sapote followed on by huge chocolarity -> further awakened by ginger rays... the backlit glow as the spice warms up into a slowly infused ginger-chocolate -> goes all to nuts (almond) -> comes to a grinding tannic halt -> roblé wood for an after-math
Quality 17.9 / 20
Positively unexpected.
Deft control all the way around.
Ginger very laid back; exerts its influence similar to dairy in a
Dark-Milk
: as much implied as it is explicitly tasted. It actually rolls off some of this cacáo's acidity, or at least covers for that. So other than extending the length significantly, it exudes none of this heavy-handed slop 'up-your-grill / please mommy... I mean nanny... i mean Mistress... i just mean please scour-my-mouth-out with burning ropes of ginger'.
Oh no, child,
real craft
& well-tailored proportions to complement each element to every other to generate enhancements which alone they would fail to create on their own.
For example, who associates nuts with ginger?
Or even
Dominican cacáo
? Sometimes but infrequently. They're nowhere to found in this bar's
Dominikana Grand Cru base
.
Yet here they are in full almond glory.
The duo of Chris & Tom compare favorably to
The Mast Brothers
in that both labels perform some of their more inventive work with
Flavored-Chocolates
.
ING:
cocoa mass, sugar, candied ginger pieces
Reviewed October 26, 2011