Impact
Mast Bros... Ambulance Chasers
This bar a crash victim scraped up, no doubt, off the same side of the road nearby to
Amano's Morobe
in
PNG
.
Medevac'd to the
Masts' Bklyn care center
& wheeled immediately into their ER for some plastic sugary + extreme vanilla make-over.
Soon released thereafter on an out-patient basis, without its own recognizance, thus enrolled in the "fine-chocolate" witness protection program.
There, someone in the neighboring proctology dept, who as a hobbyist runs an idio-blog, writes a review that reads "
OMG
, this chocolate has
complex
notes with
hints
of..." (continued in the
Quality
section below at the end of this review)
Appearance 3.7 / 5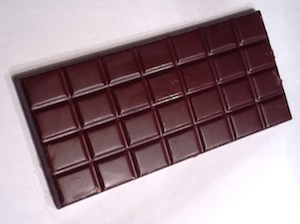 | | |
| --- | --- |
| Color: | burnt umber |
| Surface: | plain / basic tablet; pits & divots |
| Temper: | gaseous |
| Snap: | from a CrackJacks™ box |
Aroma 3.1 / 10
hilarious... flaming pigskin
no, seriously... as a football this would sear the hands trying to catch it:
lit kerosene, smoking leather, burning rubber & scorched turf
fuming
Mouthfeel 10.4 / 15
| | |
| --- | --- |
| Texture: | granular |
| Melt: | lengthy considering its crystal structure |
Flavor 30.8 / 50
diesel -> peat -> vanilla -> bacon bits with white pepper -> nut inflection (
Aleurites moluccana
aka candle nut) -> citric soot (champedak pulp) + smoldering rubber -> copra end -> ham after-life

Quality 6.2 / 20
Manure
, the chocolate reviewer continues,
"sinfully dirty."
When asked how it'd like to be consumed, this bar responds with
"Devoured... I want to be F-ed as a animal would a whore.""Diabolicious"
, the review goes on, to coin a term that comes dangerously close to landing on
The List of Banned Words
.
Smokey
PNG
-- the entrails of hell. Poor post-harvest. Definitional "hammy" due to over-fermenting, then laying the seeds out on the side of the highway for
cacáo's
lipids to absorb the auto exhaust.
Did the
Bros
buy these beans from
Amano Art Pollard
on eBay? Or just a distressed get from
John Nanci aka Chocolate Alchemist
?
Either way, whereas they salvaged an
under
fermented
Chuao
pile, they hastily manufacture here. Shortened conch (noticeable grain in the Texture) with seemingly liters of bourbon vanilla -- the new miasma in the modern spartan chocolate era -- poured into it.
The choc equivalent of Madonna pulling a drum 'n bugle corps at the SuperBowl. Looks good, sounds OK & requires a lot of backup + special FXs.
But oh, the ever-so-hipster Bros... smoke is the new bacon pork, & they're on it.
ING:
cocoa mass, sugar, vanilla
Reviewed February 23, 2012