Impact
A chocolate out of
Ecuador
via Italy to echo Allesandro Moreschi, the late 19th century's most famous castrato — a male singer who undergoes castration before puberty &, as a result, retains a soprano or alto voice that turns powerful as he develops lung capacity & physical bulk into adulthood.
Moreschi became 1st soprano in the Sistine Chapel choir for 30 years & was the only castrato of the
bel canto
tradition to make solo sound recordings.
This chocolate likewise tastes castrated but instead of retaining its upper register octaves, it drops into a tenor with plain base notes.
Appearance 3.2 / 5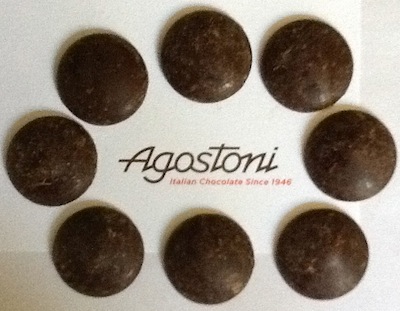 | | |
| --- | --- |
| Color: | muddy brown |
| Surface: | baking disks |
| Temper: | mottled & dusted |
| Snap: | ear-splitting |
Aroma 7 / 10
dirty banana turns into a forestry study (vegetative green, an arboretum with spores & fungi) of riverine scents (water-borne sediments) -> small vanilla / peanut
Mouthfeel 12.4 / 15
| | |
| --- | --- |
| Texture: | medium-light body |
| Melt: | uneventful |
Flavor 42.9 / 50
barley malt vegetal -> soft nuts 'n cocoa -> mellocos (aka
ulluco
in the potato family but a little sweet) -> stone to typify
Ecuador
-> cold cocoa -> vanilla -> tiny nut toffee
Quality 15.3 / 20
Agostoni writes about a marked floral bouquet, distinctive bitter, minor acidity & trace astringency: "full, perfectly rounded, characteristic cocoa culminating in a particularly persistent floral aroma."
The label simultaneously overstates & understates the matter.
A higher than average
cocoa butter
content -- to suit its intended use as couverture for desserts & pastries rather than strictly a straight eating chocolate -- ensures a cuffed bitter well in check. Ditto acidity & astringency which Agostoni accurately describes. But flowers? Floral only in their wet marketing dreams.
The upshot: more a dark tone than
Dark
taste. Mostly baseline cocoa attended by a maltiness generated in the post-harvest prep that never vacates. A safe profile; doubly so for 74%.
Finally a chocolate that breaks the spate of mediocre product emanating from
Ecuador
. Assiduously cultivated / studiously crafted... rounded-off flavors displaying none of the activity & dynamism of another Guayas-sourced cacáo --
Amano's
, in a much different show of style & technique.
Nothing special; just solid.
Reviewed March 27, 2012