Impact
The María Capovilla of Chocolate.
She the Ecuadorian supercentenarian; the last remaining documented person born in the 1880s (wonder if Sting, the writer of
Born in the 50s
, can sing that?); the oldest human ever of the southern hemisphere; & the oldest person whose life spanned 3 centuries.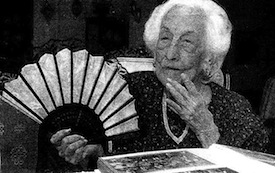 Capovilla holds more records than Lance Armstrong or Barry Bonds except for maybe lying about doping. Given her age & in keeping with respecting our elders, the lady at least deserves a pass for claiming she never smoked, drank or injected.
In this age when any cracker will lie to get on TV -- like holding the winning numbers of a half-billion dollar lottery but somehow losing the ticket in the toilet -- Capovilla had the documents to prove it. (Yes, Mr. President, you're far from alone in having to produce a birth certificate.)
At the time of her death shortly before her 117th birthday in 2006, she became the sixth-oldest fully documented & officially validated human to have ever lived (7th if including Methuselah; 8th when counting Christ's eternity).
The daughter of a colonel, Maria lived a life among the upper-class elite, just as
Ecuador's fabled Nacional cacáo
once did before falling into ruins.
Sure she had her health scares. At age 100, Capovilla nearly died & was given last rites by a priest. But this woman, tough as the
Texture
in this bar, recovered & lived in good health for another 16 years (Ditto the
Flavor
here). In her late years she needed the assistance of an aide if not a walking stick to get around. Same too with
Nacional
, whose woody taste survives with lots of help from geneticists & breeders.
Like any centenarian, this bar is a little old, decrepit, musty, cantankerous, & of a clouded memory. And yet a living relic enshrouded with what once was &, who knows, given advances in bio-engineering, might become again.
| | |
| --- | --- |
| Color: | light dried dirt |
| Surface: | a physical beatdown |
| Temper: | angry |
| Snap: | angrier |
Aroma 8.7 / 10
jumps out of the wrapper as peanut-gianduia -> exhales more archetypal
Ecuadorian
landmarks... very herbal / vegetative -> ultimately aerates grains / legumes (yucca, abaca, broad bean, mellocos) sweetly soaked in melon, the latter a precursor to an undeniable floral print
Mouthfeel 9.6 / 15
| | |
| --- | --- |
| Texture: | granite |
| Melt: | tough, resistent, & fractious |
Flavor 45.8 / 50
floral-cocoa (signature
Nacional
, ambiguous such as it is here) -> a bamboo stick pokes thru peanut butter -> char at the fringe leads to coffee grinds -> the appearance of intrinsic vanilla (none added) shifts peanut to hazelnut -> brief alcoholic moment (dry fino sherry or the nut-some
Amontillado
) -> closes with a tannic cocoa-moraberry (very concentrated & dense)
Quality 15.9 / 20
Consanguineous to
Orecao's 100%
; that the unsweetened parent to this 70% bar with 30% added sugar.
Rather non-linear; a vertical stack instead that recalls pre-21st century chocolate. No compounds left behind but together carry forward in succession & accretion. A testament perhaps to rather uniform genotype, as opposed to the multifarious cross-hybrids that rule the chocolate roost nowadays.
Though occluded somewhat by the butter, then further obscured by poor storage & handling issues that beset the
Texture
to miserable depths, some pedigree still manages to peek thru, whether higher germplasm Nacional or one of its many
EET
offspring.
INGREDIENTS:
cocoa mass, sugar, cocoa butter
Reviewed June 18, 2012