Impact
Love it or hate it as many do,
the C-spot
™ coins enough terms in the premium chocolate niche to shape a word-cloud that could fill the front & backsides of a T-shirt, if not a small dictionary.
Barsmith
,
Earthen
,
Twang
, Bromans (
cacáo growers
),
Chocorater
(a chocolate sommelier) to cite but a few.
Here's another:
pod-strength
. The equivalent of the cask-strength concept for single-malt whiskies. For chocolate this means a bar that only contains whatever originates & comes out of the
cacao-pod
& nothing else. No vanilla, no lecithin & no sugar. Just pure cacáo thru & thru.
Unsweetened 100% cacáo-content from
Ecuador
-- total pod-strength.
Appearance 2.1 / 5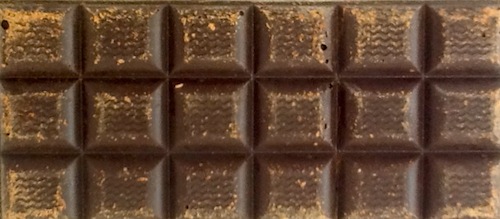 The familiar face of Tulicorp's mold in Ecuador seen before from many labels, most widely Vintage Plantations
| | |
| --- | --- |
| Color: | mud hole |
| Surface: | battered in transit... every imperfection known to chocolate (flaked, chipped, bloomed, pocked, etc.) |
| Temper: | disgruntled |
| Snap: | a brick-house (sound edge which means its integrity lies largely intact) |
Aroma 8.8 / 10
massive build: big cocoa tannins, peanuts & dried wood bark -> scintillates some cinnamon on the out-venting
Mouthfeel 11 / 15
| | |
| --- | --- |
| Texture: | very dry |
| Melt: | Bubble Yum® |
Flavor 43.9 / 50
leads-in on wood 'n nuts (palm 'n peanut) tempered in sweet
butter
-> minor back bitter from distant ash (charred roast) -> cooled by wintergreen (Amazon grape a k a
Pourouma cecropiaefolia
) -> ash drifts back with more of a vengeance this time around, the flecks of hickory-smoked peanuts -> late-closing red-banana feint -> respectable latent cocoa in the aft-shaft along with coffee
Quality 15.4 / 20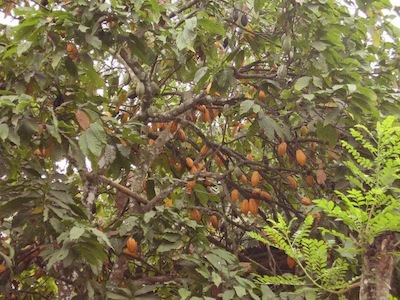 Sourced from Samuel Von Rutte's cacáo grove situated in the foothills of the Andes mountains east of Quevedo, Los Rios. There he cultivates a monoculture crop on 230 hectares. Von Rutte was a senior cacáo & coffee researcher for Nestlé's in
Ecuador
. He went "local", leaving the food giant to scout around the country for the fabled
Nacional
cacáo trees. At the CCAT (Centro de Cacao de Aroma) repository at Tenguel, just south of Balao, he found some & transplanted them on his propertiy.
Once his seeds undergo fermentation & drying, Von Rutte delivers the beans to Tulicorp in Guayaquil for processing into chocolate. Tulicorp performs this private-label service for many brands that then sell their bars to gringos in the consuming North, often promoted as ethical Fair-Trade, Rainforest Alliance, Organic + whatever other certification stamp that can fit on a wrapper.
Provenance & logistics aside, this bar almost pulls off the impossible: a sweet unsweetened.
Excessively mild for its percentage except for the carbon ash drifting over the mid-progression. Before & after then, pleasant woods & nuts plus some latter stage fruits attest to good genetic make-up & otherwise promising craftsmanship marred only by over-roasting (granted, a serious infraction). Addressing that flaw, Tulicorp unevenly roasts or, more likely, uniformly burns these seeds. It incorporates a very generous
butter
cut with its inherent sweetness to modulate it.
A judicious choice given the charred circumstances. "For butter or for worse", in the end the generalized flavor overcomes the burnt aspects of the sub-profile.
INGREDIENTS:
cocoa mass, cocoa butter
Reviewed June 14, 2012