Impact
Madagascan cacáo
often reflects the quartz content of the island's sediments -- bright & clear -- that lay around or beneath red clay deposits (hence, the nickname the 'Red Island).
Add in the mineral salt & sugar crystals, all of which are contained within this bar, & Menakao earns a license as a mining excavation company.
Appearance 4.3 / 5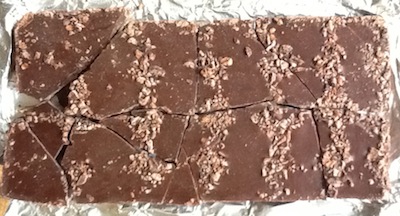 Crystal Brown Persuasion
| | |
| --- | --- |
| Color: | pink grapefruit-brown |
| Surface: | a stud (NIbbed 'n Salted) |
| Temper: | volcanic |
| Snap: | came pre-Snapped right out of the wrapper (see photo above) |
Aroma 7.8 / 10
unorthodox for the
origin
: brown sugar & hibiscus, the latter the analogue marshmallow floating atop that proverbial hot cocoa cup -> a li'l cookie dough in the background + a slice of rubber-smoked bacon on the side (dem da facts)... warm, comforting, soothing for the perfect snuggle to wake up to, or go to bed with, while reading the morning newspaper on one hand, or nodding off watching re-runs of
Sex & the City
on the other, bemused at all their frustrated &/or broken relationships / trysts, just as slumber hits reality of yet another sexless night with the spouse to lie next to
Mouthfeel 12.3 / 15
| | |
| --- | --- |
| Texture: | rollicking crunch 'n cream 'n cacophony |
| Melt: | apoplexic |
Flavor 47.6 / 50
fab opening: cranberry margarita (swap out tequila for junipered gin), glass rimmed in salt of course ->
Nibs
settle the frothy fruit & drive the progression into toffee + a vegetative umami (call it
Katrafay
for the tree -- rich with fragrant sesquiterpenes whose oil expresses green moss scents) -> fruit bounces back up with Raspberry Bubbleyum
®
on the strength of that rubber plant in the
Aroma
(above), now carrying over to
Flavor
-> red-grape raisin gummy bear -> switches to a juicy fruit cocktail (apricot, mango, pineapple, baobab) -> toffee also resurges as the last FXs of the Nibs which survive the melt, this time around as hazelnut brittle
Quality 17.8 / 20
One mighty fine chocolate filled with feedback loops & double acts (Flavors that come & go to return again).
Where
Menakao 72%
shows neither much charisma nor charm, this displays both -- & in spades.
Once again with Menakao, the ancillaries are borderline pitiful (Texture; Aroma) or downright abject (the cosmetics / Appearance). The internal qualities however are anything but.
The salt-spiker, precisely measured, performs its work early & quick to propel flavors thru the length without overwhelming or weighing them down. Ditto the 63% formulation augmented by
Nibs
. The combine of salt plays extremely well off the extra sugar & then some... along with their flounce & bounce, add some muscular edge (the Nibs galvanizing all those lower register depths like the toffee & the umami)... all refreshing to the end as
Madagascan cacáo's
acidity keeps it light & bright.
Menakao's own tasting note are pretty instructive & accurate: this piece just dances & prances all over to enhance the senses.
Some seriously juicy fun.
INGREDIENTS:
cocoa mass, sugar,
cocoa butter
, lecithin, sea salt;
CBS
(
Cocoa mass / Butter / Sugar ratio
): ~3:5:5
Reviewed July 30, 2012