Impact
A bar that can lay claim to many "firsts": the first
Guatemala-sourced cacáo
manufactured outside the country & marketed as premium chocolate (in contrast to
Danta
which vertically integrates & operates all in-country); the first to come from the central highlands of Guatemala (situated between the ancient trade routes of the Pacific Coast to the west with its once-fabled cacáo groves & the lowland jungles up north). Plus, the first to be so reviewed as such anywhere.
In another, it might also be the first to suit
The Kaibiles
, those special ops commandos from Guatemala trained in jungle warfare & counter-insurgency during the country's civil wars. More recently the Kaibiles have re-oriented in line with current events towards anti-terrorism, anti-kidnapping or anti-narcotics efforts.
They're so named after Kayb'il B'alam, a tenacious Mam-Mayan who evaded capture by the Spanish conquistadors under Pedro de Alvarado & held out for months on the verge of starvation in the stoned city of Zaculeu. Sporting maroon berets with patches bearing a blazing sword, their motto reads: "If I advance, follow me. If I stop, urge me on. If I retreat, kill me." Just but one chilling point in the decalogue of this killing machine.
Infamous for their reputed practice of forcing recruits to bite the heads off live chickens, then washed down with river water out of a freshly-fired artillery shells (burnt residue still inside naturally). This drill emboldens Kaibiles to eat anything that moves for survival rations. Furthermore, they perform field surgery on themselves in the line of fire. When fallen by gunshot for instance, Kaibiles brandish their knife, cut an 'X' on the wound, & extract the bullet.
Luckily, recruitment is voluntary.
So too the eating of this chocolate.
Appearance 4.3 / 5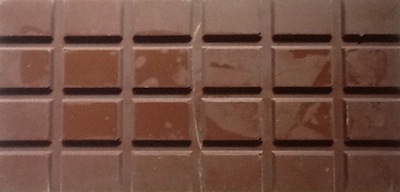 | | |
| --- | --- |
| Color: | definite red blush (a hopeful sign of Criollo pedigree) |
| Surface: | uneven (see Temper below) |
| Temper: | flat as a mat except for the plastic wrapper transfer producing a shiny mirror |
| Snap: | strong monologue; lightly sanded edge |
Aroma 4.7 / 10
pungent prey from woeful "Squatemala": cicha (beer) & chorizo (sausage) which may sound fine in another kind of bar -- the corner pub
toss in greens leaves, herbs, brined picholines & raw cocoa (generalized 'cacáo verde'... the compound cis-3-hexanol in evidence) -> earth / dirt
a calamity attributed to a variety of issues from unripe pods, insufficient fermentation (clearly the residual ethanol indicates AAB [Acetic Acid Bacteria] failed to consume the alcohol in the ferment heap, if there ever was one) & curtailed drying (which often creates those meaty / hammy FXs)
Mouthfeel 11.3 / 15
| | |
| --- | --- |
| Texture: | a rubber ducky |
| Melt: | discom-glob-ulated |
Flavor 28.8 / 50
those alarm bells in the Aroma sound off loud 'n clear in the mouth: raw earth-dirt ground into the lower stratum -> fleeting liquidambar (sweet gum tree) -> limestone -> chalk (add molds & storage troubles to the list of problems) -> stringent streak -> soiled hazelnut
Quality 6.7 / 20
Along with the reddish color, very big, round seeds (50-55 beans per 100 grams, or nearly half the average) suggest some pedigree worth DNA analysis. The flavor however suffers miserably due, from most indicators, to poor post-harvest.
Cahabón, the locale from which this
cacáo
hails, means 'painted dust', befitting this abysmal bar that starts & goes nowhere. Genesis 3:19 -- dust to dust & unto dust shall return.
So undeveloped to question whether these beans were fermented at all. A batch that could use a lot more cocoa butter & benefit from vanilla -- the M.O. of
Soma's
compatriot specializing in butter-bars,
Choklat
.
Talk of this cacáo emanating from the Kekchi Maya in the Alto Verapaz mountains raises fears that they --
descendants of a venerable chocolate culture
-- might've lost their traditional arts of cultivation. Either that or they playin' gringo for his dinero in exchange for slag like this on the export market while hoarding the "good stuff" to themselves at home (smart), counting on 'what does guero know about cacáo anyways?'.
The kind of rejects
Mars®
buys in
West Africa
by the metric tonnes.
INGREDIENTS:
cocoa mass, sugar, cocoa butter
Reviewed August 13, 2012