Impact
Very recognizable.
By way of analogy, Utah serves as an entrepôt for the vitamin trade in the USA. It centralizes all the constituent ingredients in a couple warehouses so any company or individual can contract with one of them. The "patented formulas" are usually selected from a menu of choice options that often boils down to
When Sally Met Harry
(R.I.P. Nora Ephron), "I'll have what she's having": 500 mg of Vitamin C, 75 IU of E, a few mcg of iodine, plus a little bit of the pricey Co-Q 10 (the cocaine of vitamin profits), etc. Photoshop a private label &, wham, you're in business & ready to take sales.
And that glowing neon orange-yellow bile expelled as the byproduct of insoluble B-vitamins that gets flushed away in commodes all across the land... consider it the equivalent of Texas tea (crude oil) -- as in 'Utah urine'.
For that reason, many "different" brands offer the exact same product with but a different label (& often price).
Ditto some chocolates.
This 63% Sea Salt & Nibs bar from Madécasse for example. It's the identical siamese twin to another bar called by virtually the same name but in reverse order - 'Nibs & Sea Salt' -- separated at birth by a marketing strategy. Manufactured in the same factory, using the same equipment, with the same formulation. Only the wrapper & the mold differ.
As such, full review unwarranted. For that, just see
Menakao's Nibs & Sea Salt
.
INGREDIENTS:
cocoa mass, sugar,
cocoa butter
, lecithin, sea salt;
CBS
(
Cocoa mass / Butter / Sugar ratio
): ~3:5:5
Reviewed September 10, 2012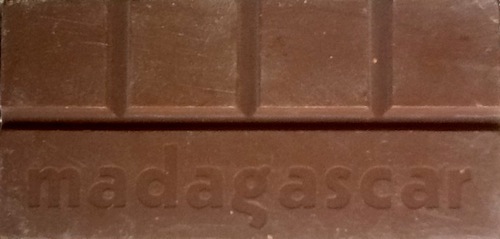 | | |
| --- | --- |
| Color: | |
| Surface: | |
| Temper: | |
| Snap: | |
Aroma 7.8 / 10
Mouthfeel 11.2 / 15
| | |
| --- | --- |
| Texture: | dry lacerating shards slows the Flavor development |
| Melt: | |
Flavor 45.4 / 50
Quality 16.1 / 20
Heavier salt detracts from overall score