Impact
The aptly colored brown 'n green monitor lizard
Varanus bitatawa
grows to six & a half feet long yet weighs only 20 pounds.
First spotted in 2004 in the Sierra Madre mountains on the main island of Luzon in
The Philippines
, researchers there saw a local Agta man carrying one of them... perhaps destined for some mansion in a far away country since the area is a habitat destruction hotspot due to deforestation, hunting & trapping for the pet trade.
Unlike most monitors -- including its larger relative the Komodo dragon -- this charismatic monitor feasts on fruits rather than carcasses. It spends much of its time in the treetops & has unique claws that allow it to reach its favorite fruits. Probably mangos & cacáo among them.
Hey, the pet's new owners can just feed him this bar.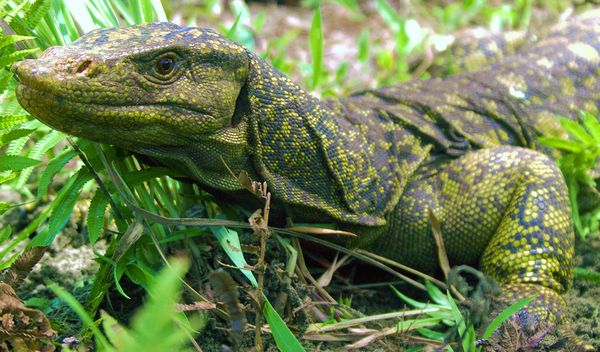 Oh, you cute little thing. Wanna little chocolate?
| | |
| --- | --- |
| Color: | multi-hued |
| Surface: | unsightly |
| Temper: | angry |
| Snap: | decrepit adhesive |
Aroma 7.6 / 10
Mouthfeel 13.4 / 15
| | |
| --- | --- |
| Texture: | encyclopedic: sticky, stringy, powdery & gummy |
| Melt: | fractious / rebellious funhouse |
Flavor 47.1 / 50
a whole food: ticks off every box on the check-list of the tongue's taste-receptors --
sweet (thanks to the sugar)
sour (unripe mango)
salt (of the sea variety)
bitter (
cacáo's
polyphenols from
The Philippines
)
savory (chocolate per se)...
all adroitly balanced along both the vertical & horizontal axes for tremendous depth & range
Quality 17.7 / 20
Green mango (the unripe fruit picked early) & salt are a common combo in cuisines all around the world. And for good reason: they go together well.
A bar with phenomenal cohesion of shared elements but in contrastive ways. Every component works in concert even as each maintains its own identity so the total sums up an interaction well beyond the parts.
Add formidable persistence to the mix for long lasting flavor to make palates wonder whether this hooks up to some DC electrical current.
Could be Theo & Philo's signature bar. Maybe even the next national dish of
The Philippines
.
INGREDIENTS:
cocoa mass, sugar, green mangos,
cocoa butter
, sea salt, vanilla
Reviewed October 30, 2012