Impact
Rob Anderson, the
barsmith
behind Fresco Chocolate, processes
every origin
every which way, experimenting with each by varying the roasting curve & the conching parameters. When asked which of his various PNGs (
Papua New Guinea
) he considers a must-have, Rob brandished this bar.
Hmmm, why is that? Maybe something to do with the power-number '69' prominently posted on the front (click image upper-right to enlarge)? Or the quivers of flavor akin to the
Kombai
or
Korowai
arrows that pierce thru the PNG bush & find targets in saltwater crocs, beady-eyed death-adders, & rival clansmen?
Whatever the reason, Fresco Rob captures the wildness of PNG while sweetening it to just about the right level.
Appearance 4.7 / 5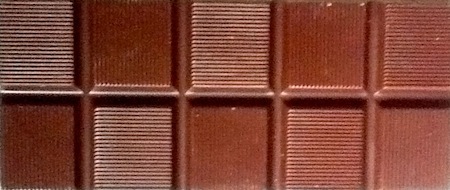 | | |
| --- | --- |
| Color: | aubergine |
| Surface: | a visual beauty mold |
| Temper: | twinkling optics |
| Snap: | tight bass |
Aroma 7.8 / 10
grilled fruits -- diesel & turpentine vaporize the yellow champedak as well as artichoke heart, tea & a balancing spice (bourbon vanilla)-> fumes evermore masculine with leather -> grape-must on the break wall
Mouthfeel 11.4 / 15
| | |
| --- | --- |
| Texture: | rugged start... turns chalky / powderful... |
| Melt: | ... con-glob-ulates before yielding |
Flavor 43.8 / 50
slow release of infused tea with some reds (very cherry & grape) backed by smoked tobacco leaf -> peat -> hay with a slight musty offset -> acacia -> the preceding fall way as granite & limestone grind in -> late-resurgent fruit-acid -> dry cocoa
Quality 15.6 / 20
Markham Estate, first highlighted by
Cluizel's Maralumi
, lies about 30 km outside Lae City along the Highlands Hwy, Morobe Province,
PNG
. Where most
cacáo orchards in the world
are in the hands of smallholders (often 2 to 3 acres), Markham scales up a sizable operation, including one of the largest central fermentaries around in which
cacáo seeds
undergo a 5-6 day ferment, then artificially dried for 2 or 3 days due to heavy rainfall in these parts.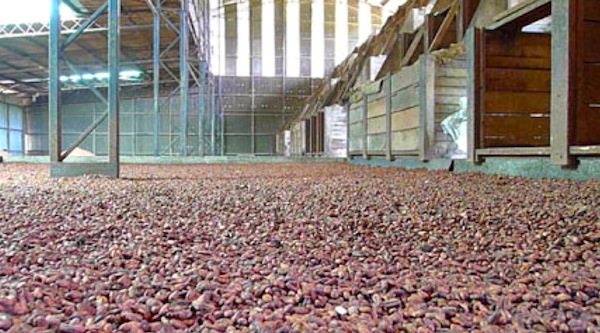 drying beds with perforated holes to ventilate mechanically-generated hot air beneath the beans; fermentation boxes to the right (photo Ray Majors)
After the misfires of late from
Amano
,
Mast Bros
&
Zotter
, finally a PNG that gets back on track. A uniquely curious origin if there ever is one, few are as unpredictable. This bar follows suit but in a generally good way.
Double-smoiked: once during the forced-air drying & again during a medium-strength roast. Fresco then finishes it off with a matching medium conche that strives to fix a middle ground between highs & lows as well as the near & far array of ranging flavor compounds... all the while maintaining the island's inherent character. Especially those loose-canon shots PNG is noted for, which in this bar never really show as off-flavors, just quirks in the mix.
No palate buster but a sure mouth opener.
INGREDIENTS:
cocoa mass, sugar
CBS
(
Cocoa mass / Butter / Sugar ratio
): ~1/1/1
Reviewed October 25, 2012