Impact
On the face of it,
Bisiesto
appears to be some kind of double-siesta for which the
tropics
can be famous.
It actually means "leap year" in Spanish. Like 2012, which in a sense contains a double leap year: the conventional add-on day at the end of February (the 29
th
), plus the leap into another era as the clock winds down on this epoch of the
Mayan
calendar.
Ya know, the whole 2012 Deadline spawned by
True History of Chocolate
author & preeminent Mayanist Dr. Michael Coe back in 1966 when he relayed that the Mayan calendar resets its odometer clock in reaching the end of a 144,000-day cycle called a
b'ak'tun
(roughly 394 years). Then, in a Nietzschean-like 'eternal recurrence', this wheel of time rewinds in sync with their cyclical nature of it.
Picked up since by the likes of Terence McKenna, Novelty Theorists, Timewave Zeros, & now a galactic-laxative in the mufti-science called 'New Age' as a scenario for a doomsday shift, 2012 could ruin chocolate as we know it (not to mention the rest of your life).
Fear not, C-spotters
®
. The world is not going to hell in a hand basket; the world is coming to chocolate.
Everything goes, everything comes back; eternally rolls the wheel of being. Everything dies, everything blossoms again. . . ." -- Friedrich Nietzsche, "Thus Spoke Zarathustra"
The shape-shifters at
Nova Monda
& Giff Laube on the ground in
Nicaragua
who sourced this cacáo form part of that
collective
of optimists, idealists, romantics, dreamers, visionaries, radicals, pioneers -- imagineers who happily pioneer the borders of chocolate -- to see to it that the pleasure principle will operate well beyond 12/21/12.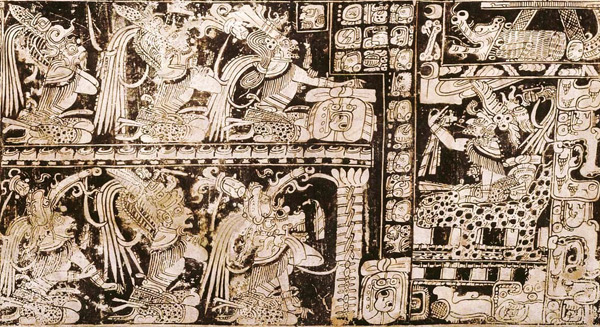 "Creation Vase of the 7 Gods" (found at Naranjo & now housed in the Nat'l Museum of Archaeology, Guatemala) discusses the beginning & end of this Epoch which implicates an Armageddon-type deity — the underworld warlord Bolon Yookte' K'uh, set to rock the planet on December 21, 2012 — a new day that could live in infamy. The accompanying script narrates "on 4 Ahaw 8 Kumk'u it was set in order: Black-is-its-Center" (Chan Ahaw Waxak Kumk'u tzakhi Ek'-u-Tan). The named location – Ek'-u-Tan – refers to the universe in a blacked-out state as the Sky awaits to be lifted away from the Primordial Sea.
Appearance 4.8 / 5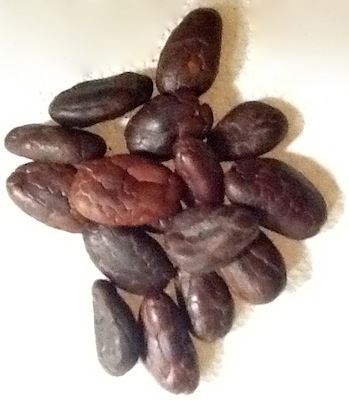 | | |
| --- | --- |
| Color: | shoe leather brown skin; lavender interior |
| Surface: | clean; medium-large; good veins; winnowed & peeled |
| Temper: | vinyl buff |
| Snap: | n/a |
Aroma 7.9 / 10
Oktoberfest hangover: beer sopping malt & hops on the edge of vinegar
Mouthfeel 12.8 / 15
| | |
| --- | --- |
| Texture: | modest crunch; very forgiving on the teeth; average fat content |
| Melt: | consistent meal |
Flavor 46 / 50
beer 'n chips... (banana & plantain chips, that is) -> gradual pecans with a umami spike -> portobello to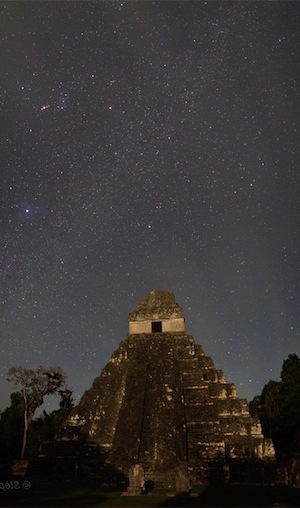 sirloin steak sauce (fab) -> muscles up a little with a bitter iron / hemoglobin -> grows nutsome again, this time some walnut & then back to that earlier mushroom, a paté with foie gras now (superbness redefined) -> trace lime -> no hollowing out in the after-linger... just a tall oak overhang
Quality 18.6 / 20
Phenomenal control. Tannins on the verge of a bitter insurrection but kept in check on this side of savory.
Nova Monda
really curving the roast to this seed's advantage, carving a roast beef of sorts in the process.
Oh, & so sanitary they must've hired Mr. Clean for the winnowing. Nary a speck of shell on these
whole bean
beauties.
A
cacáo
gathered by Giff Laube from quality tree stock of a seed mix planted on one property. Fine tasting beans / nibs do not necessarily translate into great finished chocolate. Indeed latent core CQ (or baseline cocoa flavor) in this, admittedly, locked-up format awaiting to be unpacked, indicates perhaps
limited end flavor in a bar
. But, as is, good bones, good breeding & good basting once these hit the saliva glands for some strong snacking.
The boys at Nova are grillin' & partying... choc on.
INGREDIENTS:
cocoa beans
Reviewed December 21, 2012