Impact
A bar for those hungry enough to eat an elephant (or two).
During the course of the Franco-Prussian war in 1870, German forces surrounded Paris & cut off its supply lines. Food stores dwindled. Within months, most of city's horses & pets (including cats 'n dogs) were consumed.
In desperation, butchers turned to the city's zoos. Antelopes, camels, yaks, & zebras went first. Then came the elephants' turn. Namely
Castor
and
Pollux
-- two elephants, probably siblings, killed & eaten by the beleaguered citizens in that besieged city.
The food critics of their day report that Castor & Pollux tasted tough, coarse & oily.
If only Chocolaterie A. Morin started earlier than 1884 -- the year of its establishment. It could've served Parisians this
Noir Equateur
instead... a suitable vegan substitute to spare the elephants.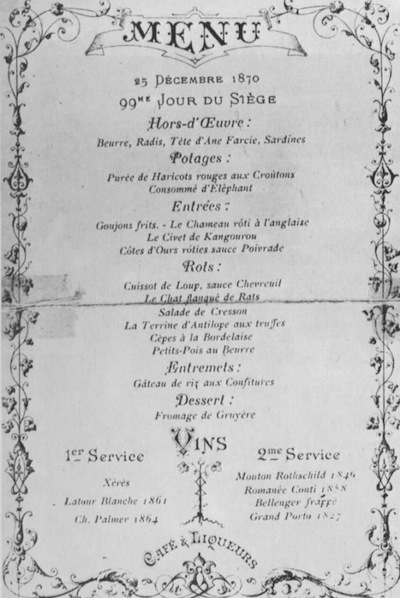 Come hell or high water, war or not, gastronomy must be served, damn it: Xmas dinner menu just prior to the Paris Commune featuring fine wine & exotic game
| | |
| --- | --- |
| Color: | deep magenta |
| Surface: | scratchitti; voids; bubbles; a generalized mess |
| Temper: | obscure |
| Snap: | good pop / strong punch |
Aroma 7.6 / 10
herbal medicine bar straight from the bush / woods with a spoonful of spice (sugar; ishpingo / cinnamon)
Mouthfeel 12 / 15
| | |
| --- | --- |
| Texture: | tough & waxy to start then turns slick & goes down smooth to the last micron |
| Melt: | even tempo |
Flavor 37.4 / 50
chocolate mud pie -> spiced hash -> hits the trigeminal nerve & astringency covers the mouth walls, intensifying cinnamon & a stone fruit (avocado... mostly the pit) -> timid gentian root -> closed fist of cocoa at the finish
Quality 15.1 / 20
What almost resembles
deBondt's stellar Ecuador 90
in the perfume department actually conforms closer to an
Askinosie
.
Underfermented
(&, by extension, sub-conched); virtually zip in the way of any fruited dimension.
In a display of compensational craftsmanship, A. Morin saves it with an able assist from extra
cocoa butter
. That addition controls & keeps in check the pre- & post-harvest fault lines.
The relatively cool roast could stand a bit more warmth to round the profile.
INGREDIENTS:
cocoa mass, sugar,
cocoa butter
, lecithin
Reviewed December 3, 2012