Impact
Pity poor Marie Antoinette. Wishing to flee the French Revolution engulfing the King & their family, she ordered a
nécessaire de voyage
for the journey in 1791. What is that? A 100-piece service ware of course, made of precious metals, porcelain, crystal & ivory, including a silver chocolatière or chocolate pot marked with the Queen's monogram '
MA
'. The American Express card of its day, royalty would never think of leaving home without it.
Could the extra load bear responsibility for their foiled escape? And did this signify that chocolate, long the realm of the aristocracy, switched sides for the people?
In any event, legend has it that eventually the '
MA chocolatière
' ended up in the hands of Napolean who reportedly gave it to his wife Josephine.
What that chocolate pot has stirred & heard from its beholders.
A bar by Morin with a certain vintage character; as though meticulously plucked from those noble traces at the base of her majesty's silverware.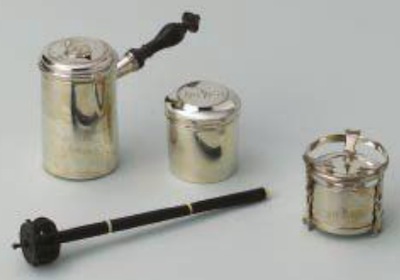 Marie Antoinette's silver chocolatière set (Museum Accession #OA 9594; Réunion des Musées Nationaux) with the black moulinet (French for the Spanish 'molinillo') or stirring rod lying in the foreground
| | |
| --- | --- |
| Color: | burnt orange-umber |
| Surface: | lunar (craters & crags) |
| Temper: | fudge sheen |
| Snap: | slightly hollow thanks to interior pinholes |
Aroma 8.1 / 10
a li'l cheese funk in the wood trunk
develops nicely though into cedar-chocolate with cherry-ylang blossoms
Mouthfeel 14.3 / 15
| | |
| --- | --- |
| Texture: | big; fat; swollen |
| Melt: | a mouthwatering coup-de-rendezvous |
Flavor 48 / 50
gets right to it: mahogany oak-cask chocolate (sensational) -> brandy then port (phenomenal) as the sugar melts in -> incremental sweet creep to lovely fruit array -- passing thru a rainbow from whites to reds -- litchi... marula (its flesh & nutty seeds to add depth)... pineapple... cranberry sauce (a tremendous suite) -> wintergreen action & other herbal pronouncements (cardamom, juniper, & vetiver), all undergirded by the wooden aspect from the start -> special geranium moment -> sweet 'n sour punch at the very back -> thin puckering film of colloidal silver whence the aged cask returns for one last flask of flavor
Quality 18.9 / 20
Some terrifically antique flavors loaded with character. Quite rare & unique for the source. Just the hue of this bar's shade gives it away & distinguishes it from other
Madagascan chocolates
that often reflect a brighter orange tint.
Morin
sublimates Madagascar's usually exuberant esters, roasting & conching them into a wiser profile. Tastes of a
worldly super-blend far beyond a single-origin
.
Texture follows suit... Morin's best to date (with a chotox lift from lecithin).
French chocolate at, or near, its apex.
INGREDIENTS:
cocoa mass, sugar,
cocoa butter
, lecithin
Reviewed February 11, 2013