Impact
Appearance 3.9 / 5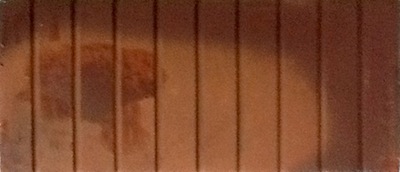 | | |
| --- | --- |
| Color: | bi-color (no, not Theobroma bicolor aka Grandiflorum but twin-toned)... |
| Surface: | ... suggesting tempering issues & how the bar cooled at the later stages of processing |
| Temper: | matte |
| Snap: | solid like a rock meeting a chisel (medium-thickness to the pour of this incorrigible bad-boy) |
Aroma 6.1 / 10
that monster micro-brew in
Nanea's Criollo
slides over to the salami section in the back of the deli next to the bins of coffee beans
Mouthfeel 10.6 / 15
| | |
| --- | --- |
| Texture: | stiff albumin |
| Melt: | slowly dissipates onto a residual Nib or two |
Flavor 31.8 / 50
bees wax -> coffee -> bubble yum / cotton candy -> bitter joins the fray & some salami fat too -> banana 'n egg cream (peak of the experience) -> atemoya then back to bitter fat -> coffee grounds with a shock dragon fruit -> spongey jackfruit
Quality 10.1 / 20
A blend of
Nanea's Criollo
+
Tom Menezes'
-- the hallmarks for a great blueprint but, as with many
such super-pedigreed bars
, they total less than the sum of their parts -- although none more spectacularly than this.
Poor technique all the way around & nowhere so acutely felt as in the
Texture
as the grinding / conching leaves some
Nib
fractions intact.
Other than some intriguing bitter-fruit coupling, a bar that simply gets only a modicum out of its
cacáos
.
Reviewed February 25, 2013