Impact
Obscured in the crossfire surrounding mass-shootings & assault weapons is that of the 30,000+ violent deaths in the USA annually, two-thirds are suicide -- the overwhelming majority with a handgun. Sixty American citizens vote with their hearts & minds & bullets each & every day of the week during the month, year-round, declaring that the generalized mayhem in the system (both to the body politic & the physical body) makes life unworthy of living.
Chocolate too, like several industries, tends to hide its internal atrocities. (The low-wage seamstress behind the haute couture dress, or blood diamonds, are other examples.) Its
end-flavor
, however, often belies what's beneath in taking the hard bite off brutal reality.
This bar serves as a reminder of the bitter truth.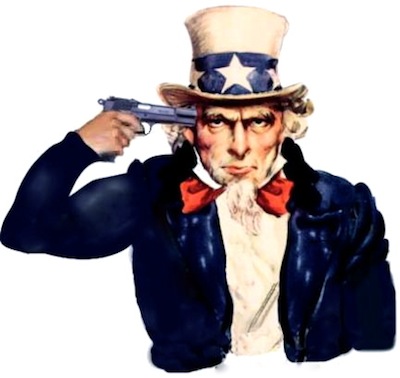 A Salute to Good-Food / Good-Mood: Uncle Sam wants you to eat chocolate, the fruit of the Theobroma cacao tree, which satisfies the RDA of fruits & vegetables, & helps fight depression (economic as well as mental) or he'll shoot himself.
| | |
| --- | --- |
| Color: | jet brown bordering on black |
| Surface: | clean |
| Temper: | buffed |
| Snap: | strong |
Aroma 8.8 / 10
very fruitful (even balsamic on the verge of b-b-q sauce) – grapes & berries
+ breakfast cereal grains (got milk?)
perfumes to musk with floral top note (above typical
Ecuador
jasmine, closer to hyacinth)
finishes with black tea instead of coffee
lights up some tobacco afterwards
Mouthfeel 12.2 / 15
| | |
| --- | --- |
| Texture: | chewier than a pair of artificial gazongas |
| Melt: | silicon 'n wax |
Flavor 38.6 / 50
light break on cocoa-chicory-coffee -> starch (yucca / maize / rice) -> fleeting floral plume from the Aroma -> plantain -> blank butter holds off recessed bitterness for only so long until that comes to the fore as gentian root -> stringent grape seed extract -> honey drop -> shreds coconut at the close -> dried blackberry after-print

Quality 13.3 / 20
Tremendous
Aromatics
(a nice cross-spectrum) fail to fully translate into
Flavor
. The outcome: generally flat.
A punishing percentage that further punishes with its teasing entrance, then buttery blandishments that develop into a static cling of astringency & minor points of interest.
The
CBS
(
Cocoa mass / Butter / Sugar ratio
) of ~3:3:1 dramatically underestimates the
cocoa butter
component.... fat on the edge of stifling. Some latent potential manages to peek thru at the very end... alas, too little / too late.
Pointless really... other than the low-sugar delivery of cacáo's healthful compounds. Good for an antioxidant supplement. A chocolate in need of re-formulation.
República del Cacao
maintaining its reliable consistency by once again shooting itself in the foot in trying to raise the barrel & aim high.
INGREDIENTS:
cocoa mass, sugar,
cocoa butter
, soy lecithin
Reviewed March 13, 2013