Impact
Some critics of the C-spot® accuse it of trafficking in sexual innuendo.

So when this, no, not Barbie doll, but Barba bar arrived ("Barba" meaning 'beard' in Spanish), well, the salacious connotations flew about so rampantly that no one needs to go there.

Besides, Mikkel Friis-Holm stands up quite the masculine kind of guy. Full-blooded Scandinavian; a beard in the original sense. Jesus wore one. Lincoln too. And Gandalf. Badasses all.

In other words, this can wear even a heavy-metal medal around its neck without hiding its true character: that secondary meaning of the term 'barba' -- 'whalebone'... beached & then crushed by its own weight without the buoyancy of water.
| | |
| --- | --- |
| Color: | light brick red |
| Surface: | clean save for a transit scratch or two |
| Temper: | semi-gloss |
| Snap: | heavy |
Aroma 7.3 / 10
predominately thick sap (treacle, sorghum, molasses)
pops a sticky apricot top (in sync with its color-coded wrapper? -- click image upper right to enlarge)
Mouthfeel 13.1 / 15
| | |
| --- | --- |
| Texture: | as always with a Bonnat-bar -- a butter ball |
| Melt: | metric |
Flavor 30.4 / 50
slow attack...
cocoa butter
with some bland white sesame paste, palm fern & burlap -> mustard seed -> jams in
koa haole
(leadtree) -> lurking molasses comes stronger to the fore against white laurel & cork -> side caramel -> jerks around grains & bone char -> smacks the oral chamber with powdered maple & stale spices (white pepper / musty cardamom) -> stringent cocoa finish
Quality 10.2 / 20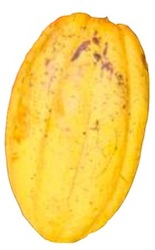 Sourced from Frank Homann's
Xoco Gourmet
which recently fractured. This bar reveals the splinters.
Barba
doubles as an exotic trade-name for a "
varietal
" based largely on phenotype, or mere appearance. In this particular case, indistinct & problematic (perhaps even tainted sugar; RE: that bone char point).
Weak under-ferment. Was it micro-fermented in a shoebox without ever attaining the critical thermal mass? Reeks of sub-drying / storage issues too.
Manufactured by
Bonnat
as a private-label on behalf of Friis-Hoilm.
INGREDIENTS:
cocoa mass, sugar,
cocoa butter
Reviewed July 16, 2013