Impact
Colossal. Just as "The Pill" with BC, this is "The Bar"... without ever needing to read
Our Bodies, Ourselves
.
Everything this bean is cracked up to be is true (& probably everything yet to be imagined is too - that's just how unreal it is... & this isn't what it was even a few years ago prior to the situation in Chuao gradually deteriorating).
What Hemingway must've felt when he caught that marlin. Or Liston knocked out by then-Cassius Clay in round 1. And Brad as he went in & got seduced on the set of Mrs. (Angelina) Smith & she spit him out a pit. It just shocks & tackles with raw brute force of nature.
This is why we do it. Why members of the Chocolatarian Tribe swell with gratitude to be Earthlings because it's the only planet we know of that has Chuao, which struts with so many complexes it should come with its own therapist onboard for cognitive safety.
Next to Chuao, all wine, even '47 LaFleur or that '21 Pétrus Merlot, is just grape juice, & all champagne mere bubbles. This the
fuel
of the gods. No wonder Hugo Chavez appears happy: he's basically the Pope of Cacáo, & the roughly
740 acres that comprise Chuao, Venézuela
are his Vatican / ground zero.
Thankfully it's under stewardship, in the blessed hands of Amedei.
Sheer rapture.
Appearance 3.5 / 5
humble looking
| | |
| --- | --- |
| Color: | pueblo – brown, orange then red |
| Surface: | Aragua Valley |
| Temper: | hardly showcase |
| Snap: | flush wall of sound & smoothness |
Aroma 9.7 / 10
ferocious flaming reds roasting on an oaken fire; once airborne, well above the heat, coffee, almond, & ash blacken at molasses junction; simultaneously high & wide / dense & deep; so superconcentrated, elements virtually galvanize to each other; the unmistakable message: make sure to buckle up & fasten your taste-buds
Mouthfeel 13.6 / 15
| | |
| --- | --- |
| Texture: | true to form – sueded (smooth w/ trace granular) & fullsome |
| Melt: | parachuting kinetics |
Flavor 5 / 50
gentle send off – strawberries dipped in honey lifted by an air column of cocoa; out the door & the 1st bitter shears to the side, but caught & escorted away immediately by red drifts (currants & raspberries)... hovering... until black delta (plum) jump-starts an entire chain reaction with that same bitter now under-riding -> a quasi-blackberry escapes neural nets - the amnesia to anesthesia & losing consciousness – then slapped awake in the face by a waterfall of chocolate, with that strawberry-honey again like a 2nd wind -> leads to blueberry treacle & the molasses within (actually more sorghum-like) savagely uncoils a pillar of darkness (possibly this experience's only minor drawback: so cloistered absolutely no light) including unexpected black pepper -> events spinning out of comprehension control, flavors spiraling array, a pinwheel of berries - so much black & red it's a chocolate Xmas party - & you're Santa at the hub, risibly spinning in the middle of a suction cup; the architectonics & unprovoked intensity of it all, expanding sequentially in all directions then recombinant in parallel stacks -> finally rip-stop technology - that barrier built-in to stop a hole from completely tearing apart – plugged in the guise of that old familiar standby – vanilla, to top off multi-layers of almond, coffee, spice cake & gingerbread after-flows
Quality 19.7 / 20
Special reserve; primordial legacy. The 1st bar rated a perfect '50' for 'Flavor' in the Census - overwhelms the comparatively trivial flaws in texture & cosmetics - meriting a bonus point. Unabashedly proud, even self-conscious, & fiercely enduring. Such an extradimensional "natural blend" (
Criollo
,
Amazon
, &
Trinis
are all in the mix in Chuao Valley, as are rumors that other undisclosed origins are added to this bar to achieve a complex that ranges from the sublime to the ridiculous) maybe nothing needs to be done in processing but flip the switch on (LOL...
Valrhona
,
Bonnat
, &
Marcolini
dispel that notion). With ecstacy, however, comes agony: transcendent & gone, a 'success-disaster' – so great, so rare, so many people want it, it's sometimes impossible to get hands on it.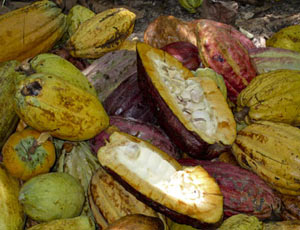 Strong evidence of diversity among Chuao