Impact
Few
barsmiths
produce unsweetened 100% cacáo-content chocolate. And those that attempt it almost always stick exclusively to the
Dark
-
Brut
category. In other words, an extreme dark brown bar.
Practically no one does the reverse in producing The recto-100: an unsweetened
White
. Strange because White comprises the butter coming from the same
cacáo seed
that makes the darkest chocolate. They're dimorphic twins. Yet so little of it exists.
Only 2 on record --
Adi's Koko Bata out of Fiji
since 2009 & now
Conacado
, an organic cacáo co-op from
The D.R.
The difference between these two island butters is not quite night & day but they are
a half a world away on opposite sides of the planet
.
Cacáo butter
can similarly vary in texture & quality depending on
geography
,
variety
& weather just like a single-origin / single-strain Dark Chocolate. The more prized seeds grown in the northern stretches of
South America
tend to have softer butter compared to bulk grade cacáo from
Africa
. A strong QTL (Quantitative Trait Locus) or genetic cluster with a particular characteristic for cocoa butter hardness has been identified in lipids with a higher melting point (specifically LG7 & LG9). Climate temperature also affects chemical & physical characteristics of cocoa butter, both in terms of the percentage of fatty acids & their melting point. For instance, some
Central American
harvests in 2011 reported a few cacáo seed lots bearing 60%+ butter content. The average daily temperature during the last few months of pod development apparently affect the characteristics of cocoa butter as much as any other factor. Lower temperatures give softer butters with a lower melting point.
Most seeds contain approximately 53% butter-fat. Nonetheless, whatever the exact percentage, fat represents over half of the dry weight & the most important nutrient of the seed, vital for its food storage.
Each consists of 2 cotyledons ("nibs") & a small embryo, all enclosed in skin ("shell"). The cotyledons comprise 2 cell types — a) storage or parenchyma cells of fat globules, proteins & starch granules, & b) larger pigmented cells, containing polyphenols & methylxanthines.
Cacáo butter is the goddess of vegetable fats. This
Conacado
embodies the divinity of it.
Enraptured "Whiteys" -- the wiggas of chocolate -- embrace the replete mouth.
Appearance 4.7 / 5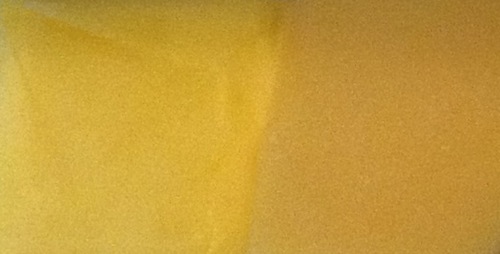 Battle of the Butters: side-by-side which is which... tell the difference between the cow & cacáo
| | |
| --- | --- |
| Color: | yellow cake |
| Surface: | baby's bottom |
| Temper: | greased |
| Snap: | good luck; bring a switchblade |
Aroma 9.4 / 10
redolent to fill the room
roasted coffee & toasted chocolate analogs + pure essential oil of cocoa
Mouthfeel 14 / 15
| | |
| --- | --- |
| Texture: | exceptional crystalline structure |
| Melt: | that over-the-top orgasmic body melt (precisely staked out at 95ºF / 35ºC) |
Flavor 46.9 / 50
light parmesan break -> cigar leaf -> wet horse mane -> high quality chocolate note ->
White
cocoa mousse
Quality 19.2 / 20
Rings with distinct
Dark Chocolate
overtones, those tannic & deep notes of its conjoined sibling.
Whereas
Original Beans
prides itself on a confected white chocolate christened
Edel Weiss
(40%
cocoa-butter
content; milk; sugar; et.al.) for its neutered if non-deodorized flavor which doesn't interfere but risks the danger that it gets so far out of the way to be a no-show (re: vritually undetectable), this White, without the whole exogenous kit (no vanilla, no milk, no sugar… nothing but butter) achieves just the opposite: unavoidable presence.
Easy to understand why one cacáotero / Broman / grower explains that at his family table they use it like… well, like butter (instead of dairy butter).
Conacado
holds a decisive advantage in a) cultivating
cacáo
& b) operating on the island of
The D.R.
which boasts tremendous cacáo diversity. The co-op has the pick-of-the-crop, affording the option to select the most replete types for butter quality.
They press it well after roasting warmly. Scant trace of impurities or machine oil. A check of the technical specs:
Microorganisms: less than 5000 cfu/g
Yeasts & Molds: less than 50 cfu/g
Coliforms: less than 10
E.coli & Salmonella: both negative
Arguably the purest &, just maybe, the perfect
White
.
INGREDIENTS:
cocoa butter
;
CBS
(
Cocoa mass / Butter / Sugar ratio
): 0:1:0
Reviewed December 12, 2014