Impact
How refreshing, a craft chocolate with a clean simple wrapper. A wrapper without the ubiquitous stamps, stickers & seals that litter packages today. Ya know, the ones boasting some ribbon or gold star issued in the same way American schools pass any student, even the kind who flunk, onto the next level & hand out trophies to the entire school body because everyone is a precious unique snowflake. Their achievement: attendance in class. (Oh, ya mean, that's not even required anymore? Just the opposite, sucker; the lower the attendance, the higher the grade.)
Chocolate's equivalent: just enter a contest (taste samples optional; check or money order mandatory).
Expect evermore so in chocolate as the categories multiply. Next up, no doubt:
Best Ocean-Grown Cocoa Spread Serving as a Sunscreen Blessed by a Fan of the Dalai Lama Protesting Climate Change
. And the winner is....
Fine & Raw
is having none of that. Its clean wrapper strikes as doubly impressive considering it claims to source organic cocoa & yet no USDA Organic label appears on the package. Very understated.
Now, some howl that
Fine & Raw
forms an oxymoron. That this brand conches aggressively to compensate for un-roasted cocoa beans, in excess of the "
raw limit
" (an ambiguous 47ºC / 118ºF, or is it 51ºC / 125ºF, or is it.. who determines these levels anyways -- the
Pope of Cacáo
?) & that it hardly qualifies as "fine" (like who controls the definition of
that
? As
the C-spot
®
first
put it years ago
, to paraphrase the SCOTUS definition on porn, 'you know it when you taste it').
Besides, given rampant identity politics,
Fine & Raw
is free to self-identify as it pleases.
The
Cashew Butter
bar should silence naysayers. It fits that elusive yet enticing category of 'Inexplicable', right up there with unicorns, sparkles & rainbows. Hmmm, now that's a real award.
Appearance 4 / 5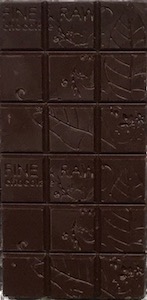 Color:
70%: purple ray inside slate brown
Cashew Butter: drops down the purple for night-brown
Surface:
diminutive 1-oz bar subdivided into 18 precious li'l squares
Temper:
new phenom: buffed flat
Snap:
caught lacking
Aroma 7.2 / 10
70%
opens neutral before a cocoa burst on peanut paste blows the nares off -> sap of blackstrap -> wood (walnut)

Cashew Butter
its quiet namesake along with the aforementioned sap
call it 'cashew sap'
Mouthfeel 11.9 / 15
| | |
| --- | --- |
| Texture: | powder kegs |
| Melt: | fits & starts |
Flavor 42.1 / 50
70%:
"palm nectar" in the guise of coconut-caramel supported by sheet rock (the tell-tale "raw cacáo" dry wall) -> astringent vice grip

Cashew Butter
triple 'L' -- licorice -> leguminous -> lucuma + triple 'C' -- coconut / caramel / coffee
Quality 15.7 / 20
70%
All about the sweetener -- coconut sugar. It for the most part masks the typical dry wall / sheetrock FXs of "
raw
" chocolate. Perhaps even enough so to make it termite-proof (test results pending).
INGREDIENTS:
organic cocoa mass, organic coconut sugar, organic
cocoa butter
Cashew Butter
Cashew itself barely registers except at how it influences the elements & compounds into spatial & sensory alignment. Uncanny & crafty of
Fine & Raw
, to the point of spellbinding. Winsome.
INGREDIENTS:
organic cocoa mass, organic coconut sugar, organic cashews, organic
cocoa butter
, organic vanilla
Reviewed October 19, 2018