Impact
Slow Chocolate… took its ol' time coming… from
Colombia
… via turbine-free wind power (sail boat).
A melt to match – waxed up for the ride.
All makes for looong foreplay to…
"One Taste"
, all it takes… with a wink 'n a nod to that lifestyle brand of the same name which promises to increase health, happiness & connection thru mindful indulgence, aka "Orgasmic Meditation" (or OM for short). Think-the-sensation / feel-the-thought. With its HQ next to Uber, how apt to hop in & hop out.
Meanwhile, memories of these chocolate bars may never depart.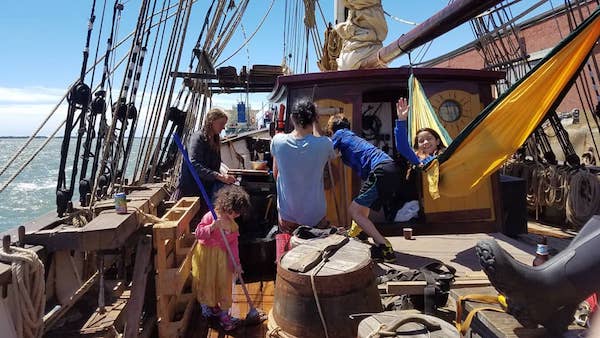 All aboard the schooner Tres Hombres: kids & cargo -- chocolate, a family-affair
Color:
Dark: the black edge of brown
Grass-fed Milk Chocolate: gorgeous auburn-brown
Mushroom Hazelnut: golden brown
Surface:
3x4 tablet with a wave crest mould; minor backside divots
Temper:
showroom quality
Snap:
modulated bass
Aroma 8.3 / 10
Dark
char & tar 'n nicotine
blackened peanut skins
sourdough rye
caraway
airs out coffee, no cream

Grass-fed Milk Chocolate
clarified roasted peanut oil
beautiful light / white woods thanks to the beeches (Gmelina arbor) used in the fermentation boxes

Mushroom Hazelnut
grand confluence of cream fat + nut oil under a 'rooming grindstone
Mouthfeel 11.9 / 15
| | |
| --- | --- |
| Texture: | immediate glide action |
| Melt: | a little waxen |
Flavor 44 / 50
Dark
brown sugar -> black coffee -> black raisin -> black mulberry into sweet tamarind -> flickering moraberry -> coffee grounds
Grass-fed Milk Chocolate
the
Aromatics
(above) + a rear char -> vanilla caramel ->
White Chocolate
-> sassafras & anise (terrific) -> fades a faint bitter-roast
Mushroom Hazelnut
onto
River-Sea's
"Dark-White" base (a cocoa butter-rich Milk Chocolate) sits a savory-crunch of light mushroom (hen-of-the-wood aka maitake /
Grifola frondosa
), subtle throughout, including the gianluca-like FXs with the hazelnut until a back coffee note drives the elements forthright
Quality 16.3 / 20
Dark
70% cacáo-content; Batch W0419
Recalls the days of Juan Valdez Colombian coffee fame. Much of that owes to roasting a li'l twee zealously, sacrificing some high end tags. Lower oven temperatures would allow less sugar for similar FXs but clearer definition.
INGREDIENTS:
cocoa mass, sugar,
cocoa butter
Grass-fed Milk Chocolate
~60% cacáo-content; Batch W0419
Potent (despite
cocoa butter
& sugar the lead ingredients; cocoa mass a lowly third) & thus big feel (massive butter component on the
Texture
). Same formulation as
River-Sea's
prior
Grass-fed release
featuring cocoa from Vietnam. The
FlavPros
diverge however & almost swap places as the customary spice-laden
Viet
seemingly takes up residence in this the
Colombian
. All in all a unique & somewhat atypical
MC
.
INGREDIENTS:
cocoa butter
, sugar, cocoa mass, milk powder;
Barithmetic
(
Cocoa mass / Butter / Sugar ratio
): ~1:3:3?!?!?!?!
These 2 bars check all the boxes -- genuine single-origin, true sustainability, direct-trade, imported via wind-power (sail boat), recycled packaging.... yep, goodwill chocolate indeed. There's God willing & then there's good willing.
River-Sea
might be engaged in both.
Mushroom Hazelnut
A best in class offering. Easily the tastiest method for getting this medicinal mushroom into the system to its immune-enhancing, cancer-fighting & glucose-controlling benefits.
INGREDIENTS:
cocoa mass, sugar,
cocoa butter
, milk, hazelnuts, mushrooms
Reviewed June 27, 2019