Cacao Recubierto de Chocolate
Oscuro 92
Oscuro 80
Oscuro 72
Oscuro 60
by
Taïta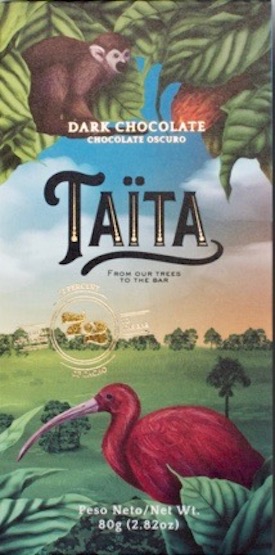 Impact
Fun Fact/or: the nose and the clitoris are made of erectile tissue.

Ah ha, the nose gets "erections" all day long.

No wonder so many get a hard-on for chocolate. Its aroma alone is basically nasal Viagra.

This collection here by Taïta – smells sex. Yeah, a drivel of blech + a drip of bliss.
Color:
Recubierto: sliver Blonde 'n pink rounds of cocoa-dusted cocoa nuts / seeds; beautiful
Oscuro 92: that now int'l chocolate polychrome (li'l of this, some of that & then some)
Oscuro 80: bends toward red
Oscuro 72: redder still
Oscuro 60: opaque "int'l" (see Oscuro 92 above)
Surface:
vigilant
Temper:
even the backside shimmers
Snap:
tattletales on its Texture
Aroma 8.4 / 10
Recubierto
banana sundae split by fresh fronds & nut meats

Oscuro 92
Lot 00059
initial putrid particle blows off to an oddity -- simultaneously raw & roasted!!!... the latter eventuates into coffee, dried sap & rubber latex which strangles a floral breath -> aerates s'mores!!

Oscuro 80
Lot 00060
Overlays the Oscuro 90 pretty closely (putrid point / coffee / rubber) with an add of cashew + a white floral

Oscuro 72
Lot 00063
darker & dirtier, oddly, than its bigger sibs (see above) -> lightens up on white woods to settle on waxed dragon fruit

Oscuro 60
Lot 00062
big broad-shoulder draft for a semi-sweet; a kind of mocha latte
Mouthfeel 11.2 / 15
Texture:
Recubierto: soft-tooth
Oscuro: waxen
Melt:
Recubierto: occasional unwinnowed husk frags

Flavor 43.4 / 50
Recubierto
bitter bite (tannins cupped in vegetal components) roll to & thru mild, clean, friendly cocoa fudge -> banana whispers before closing coffee

Oscuro 92
waxed cocoa tannins, the offshoot of the rubber Aroma -> cake flour -> avocado -> cashew -> mallow root (quite pronounced & welcoming) -> incremental bittering... cadmium in topsoil -> charred cookie crisp

Oscuro 80
black-cherry chocolate mallow -> walnut fudge brownie -> minor caustic edge at the very backend

Oscuro 72
waxed dragon fruit, followed by star fruit then the mallow clouds drift in before cashew-cocoa -> cookie dough -> sandwich cookie -> light warm brown spices aft-linger

Oscuro 60
caramel -> nuts -> whipped marshmallow -> cinnamon stick -> nut skins -> drains off its Aromatic waft of mocha latte
Quality 15 / 20
Colombia
of late makes sensational claims about all sorts of heretofore unknown
cacáo genotypes / varietals / cultivars
to such an extent that warrants closer inspection. Just how distinct are they versus minor permutations? Curious T-bud (T for Taste) salivate to find out. Whatever the analysis, these bars at least go down well. No deeper understanding needed.
Recubierto
Fortified yet accessible even as these beans / seeds are for neither the sweet tooth nor the faint-hearted. Some un-winnowed shell fragments mar the experience & the flavor.
Oscuro 92
An "unsweetened" 92%. How can that be? Depends how one categorizes Maltitol which steers the
Flavor Profile
here towards the bland.
Subtle for a 92% cacáo-content other than those bitter streaks. The non-acerbic compounds very light, even winsome. Again, thanks in part to the unsweetened sweetener. Cacáo / cocoa / chocolate is potent but fragile. Just a minute additive tilts the profile. For example, mocha confections / truffles usually contain a tiny fraction of coffee, otherwise the café totally dominates. Ditto vanilla which judicious barsmiths who utilize it only add maybe 0.5% or it too overtakes the profile (as well as the expense of genuine vanilla beans these days). Likewise Maltitol leaves its imprint however minor in total weight at just 8%.
Oscuro 80
Simple, steady, & soft contours. Like its
92%
sib, this tastes lighter than its cacáo-content. But where the
92
includes a cocoa butter pad to levitate & psychologically sweeten, which accounts for a lot of roll-off in core delivery, this relies on intrinsic factors. Very well-mannered. Some classic Colombian points, particularly the mallow note. The seed / bean bridled ever so modestly in 20% sugar that enlivens without cloying the biochemicals herein.
Oscuro 72
Pure Colombian upfront gradually tilts in the direction of
Esmeraldas
(!!!) in northern
Ecuador
by progressions at the finish. And why not, the 2 border each other.
Fab bar. Some yeast strains hang about that add interest / offsets, turning idiosyncratic post-harvesting techniques into a virtue.
Oscuro 60
Sweet 'n fun without being sickly cute. Maybe the li'l bambino but kinda the child prodigy in the family of 5. Packs a compact punch delivered with an eerie smile.
INGREDIENTS:
cocoa mass, sugar,
cocoa butter
Reviewed March, 2021