Impact
An incunabula of how it might have been, & possible vintage recovered from lost time. Unless you're the age of Methusaleh or old as diamonds you've probably had nothing like it.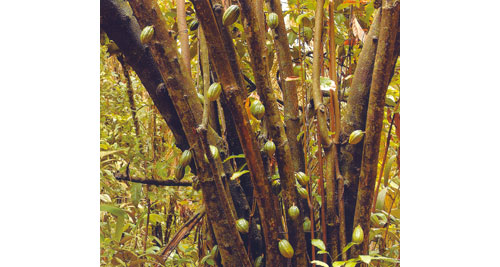 show more »
show less «
Appearance 5 / 5
Packaging rarely warrants this much attention. This is different. Sets a serious tone: a museum piece complete with dossier from the research library. Wrapped as fragile as a leaf in thin long strips, clothed in gold, with a feather mold. Wild treasure as ancient artifact; driving both anxiety & curiosity to lift the lid & open up antiquity. One peek reveals a jaw-dropping talisman; a closeted drama. Truly one of the jewels of the Chocolate Kingdom. Auctionable.
| | |
| --- | --- |
| Color: | omega brown w/ dark violet ray |
| Surface: | immaculate surface flow of shimmering curtains |
| Temper: | high sheen |
| Snap: | musically percussive |
Aroma 9.4 / 10
bottom notes: soft leather, dusky briar wood, bluestone, streamed coconut, & vanilla musk; midrange: mulberry/raison, prune tea; top note: cashew lifted in a chocolate fog
Mouthfeel 13.2 / 15
| | |
| --- | --- |
| Texture: | bit dry & dusty then astringent |
| Melt: | had to fight for its melting point, prolonging the sensation & standing up lots of body & length |
Flavor 47.9 / 50
slow developer that keeps growing: chocolate vanilla honey frames a series of pruned dialects: straight/ unaccented -> fresh picked, just off the boat [conjuring lemon-blueberry] -> 3rd generation dried [raisin-jujube adjunct] that keep bumping ever higher to a faint pineapple halo, then the careful mediation thru a low bitter nut blend w/ burlap (cashew/pistachio/almond); all taken together rises & juices up a celestial cider just before end times when it drops to a tiny bit of stone & lands very green; a rare find in taste whose chocolatarity comes mostly on the edges
Quality 19.3 / 20
Beyond estate-domain, primordial & providential; mistycal crystal & wildly tranquil. Perhaps the very descendent of what conquistadores esteemed as the best cacáo of all, even more valued than the vaunted
Xoconochco
(see
True History of Chocolate
, pg 211; or Fr. Francis Xavier Eder's account). Roasted low & slow in between a relatively short ferment &, by
Felchlin
standards, shorter conche (below its usual 72 hours). With such a gentle disposition, this bean's tolerance could handle more than the current 68% cacáo-content; perhaps well into the mid-to-upper 70 pecentile to crown it the greatest bar on Earth.
Reviewed Autumn 2005