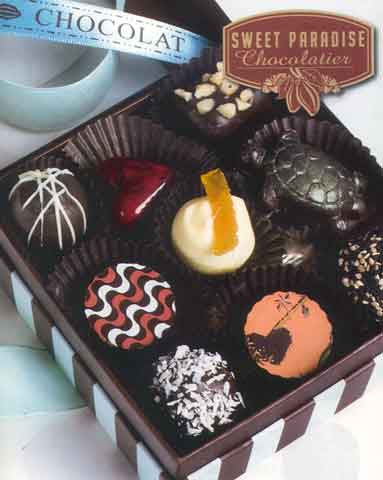 Impact
Cocoa paradise as envisioned by edible-jeweler Melanie Boudar who cut these hot rocks.
For a truly sobering eye-opener, seeing the
Hawai'ian cacáo scene
from her close-up vantage paints the dismal picture of
pessivision
(pessimistic sight): "oh, well, the State ain't got money to send kids to school so forget cacáo"... with the darth voice-over of experience which sounds like she bears the battle scars from several wars on this front (either that or blame it on cell-phone audio fidelity). Basically a dejected
Chloé Doutre-Roussel
on a valium/xanax bender. Hence, virtually no-to-low Hawai'ian cacáo in her box – just the standard Callebaut mixed in with some
El Rey
and
Felchlin
.
All in all, a nicety-free view at odds with the young-blooded optimists (Seneca Klassen,
Nat Bletter
, et. al.) whose works proclaim that things at least seem to really be changing now for the better, with a lot of people getting interested & into the game.
That aside, Melanie shreds an easy lip-slide to a front-blunt while kitchen-surfing this box. These tropical flavors crown her a Quicksilver champ -- so named after the legendary big-wave contest in memory of Eddie Aikau, held every now & then when waves reach a minimum of 40 feet.
In other words, big & smooth as the swell of energy from a large storm that sends a wave train down the smoosh mouth
Presentation 4.3 / 5
green & brown textured-fabric box - a sort of pillowed-wallpaper – speaking chocolate's true colors + a ribbon written in French pretension (chocolat); inside a motley slew of hemispheres & squares, w/ stripes, sprinkles, dried fruits & acetate transfers... a couple in the distorted midst of a meltdown
Aromas 3.8 / 5
candy store mints, ginger & various citrus over cocoa
Textures/Melt 8.3 / 10
| | |
| --- | --- |
| Shells: | snaps w/ some bite |
| Centers: | substantial yet smooth |
Flavor 44.6 / 50
loud character w/ outsized desires & moxie that makes up for what it lacks in balance; chocolate a bit incidental to some classic island additives whose ranging flavors manage to stay within the theme & remain effervescent despite low sugaring, & keep its bouyant combos edible way past any expiration date
Quality 25.2 / 30
Solidly-crafted comfort-chocolate in add'n to its exotic allure & flair.
Selections
Mango Mojito
- mint, lime, rum & mango – teetering at almost fake levels - compliment their assembled set to a chocolate melt-thru of a tropical collision into pink fusion; good trajectory
Banana Maui Rum
-
White Chocolate
base; ho-hum taste
Hawaiian Salt Caramel
- Red Alae sea salt rubs softly into caramel-clay tones
Island Spice
- sweet melding of ginger, clove & vanilla; none of them causing any infraction on the other... just well-controlled integration embedded in
Dark
couverture with swelling round texture
Key Lime Pistachio
- citrus streak checked by nutmeats & cuffed in
Dark Choc
; none too sweet; excellent
Chili
- starts life as a straight Palet d'Or then the pepper, rather than sneaks up, ambushes in a hot-blooded attack leaving the scene colored all red & black
Raspberry
- fortified w/ Chambord liqueur & a
Dark
cover; oh, what a model of decorum & aplomb in this diplomatic interplay
Reviewed Summer 2010