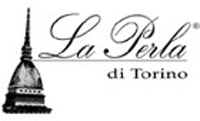 Impact
REDUX REVIEW


Back in the day when the financial crisis triggered the Great Recession, this box was subprime with all the bad mortgages that sunk the market. Several years on & La Perla lifts its game… somewhere between semi-fine & super-prime.



Rather than a composite average of both evaluations, the overall rating reflects the updated one.
Presentation 4.2 / 5
flashy grab bag of gold & silver foil wrappers, the kind of stuff that cuts the benji stacks like so much confetti making it rain at a strip club
Aromas 3.7 / 5
a nut house
Textures/Melt 8.2 / 10
| | |
| --- | --- |
| Shells: | variable (including some without shell) |
| Centers: | variable too, though generally of solid to high standard |
Flavor 40.4 / 50
what formerly displayed a obnoxious attitude with so many untrue moments now turns toward more honest & genuine confections
Quality 22.6 / 30
For both the feeding masses & the pretentious food whores
Selections
| | |
| --- | --- |
| Couverture: | generic (probably ICAM) |
Gianduiotto
- sugar & cocoa mere bystanders to super rich, oily hazelnuts, well-roasted & from Piedmont no doubt; as if hazelnut butter sat around until its oil separated from the nutmeat & this poured off
Nero Tartufo Dolce Pralinato
- strong dry cocoa-dust starter, almost throat-searing, until cloyed & globbed by enough glucose corn syrup to run an experimental hybrid vehicle for days which this achieves with a stick shift pulling both on the palate & the teeth thanks to some chewy sugared egg whites; a crowd grabber
Tartufo Bianco alla Nocciola
- maybe critiques on
the C-spot
®
like these back in 2009 forced La Perla's hand some:
"Piedmont hazelnuts the many speed bumps, confected in hi-sugared milk choc, comes to a screeching metallic vanillin halt like an ABS braking system without tires"
because real vanilla, moderated sugar, & add'l
cocoa butter
now boost this piece to classic repertoire & reputation levels
Chocolate-covered Coffee Beans
- micro-sized with super smooth glaze for snorting; full-city roast - & then some - just a disrespectful beanstomper ripping it without a shred of consideration for
cacáo
; why bother... just serve the espresso
Tartufo Stracciatella
-- a sugar bomb laden with dusky hazelnut & just a dusting of cocoa but well-tailored & appointed flavors enriched with ample
cocoa butter
for quite the indulgent splurge
Albesi al Rhum
-- heavily fortified chocolate, the cocoa just an excuse to pour it on… only 5% rum listed, which vaporizes seemingly to 95 proof, or all rum / all the time; requires ID (fake or not) of legal drinking age
Extreme Tartufo
-- dry in every aspect; a classic irregular-shaped truffle of sugar, vanilla, cocoa mass + butter & caramelized
Nibs
… a potent lineup except the proportions misalign; less sugar / more mass would equal greater gastronomy; blinkered
Reviewed Autumn 2009
Revised May 15, 2014