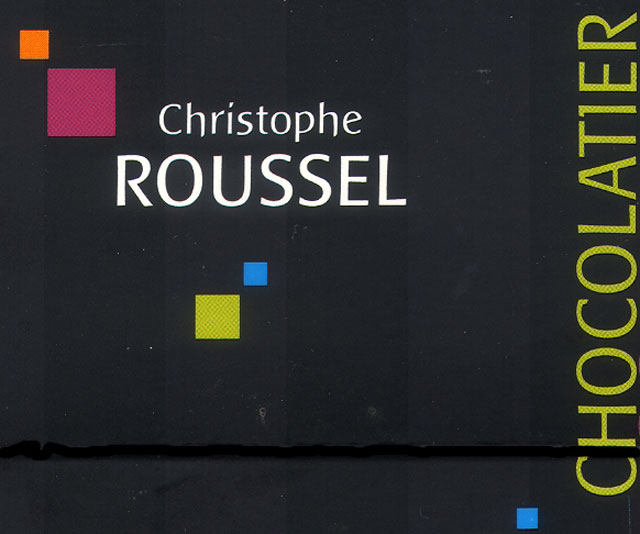 Impact
The eyes: A bit of a conveyer belt / pseudo-Whitman's Sampler™.

The mouth: standard if unremarkable melt 'n mouth spread; a yield so-very-$20-prostitute on the last trick of the night… no moan, no hope of existence being transposed to any true higher purpose like bonbon nirvana. In a word, 'passionless'.

The tongue: a day at the circus for the inner-child with a sweet tooth from this skillful re-interpreter of childish things.

The belly button: easy to stomach.
Presentation 4.2 / 5
Great retro-inspired packaging
Groove-70s box design: bopping day-glo colors all the trend among several Parisian chocolatiers these days with matte-black background that suggest a target audience of neon partiers

Beautiful inner-box lined with silver & pink tea papers (nice touch)
Well-scripted / designed inner brochure
Gotta hand it to French confectioners: they've the style of the Japanese in graphics & bonbon body-art without the cutsie Anime flavors (ya know, 'big eyes, white knee socks, big tits...no substance')

Unassumingly cut rectangles (no gloss, no gleam, no BS modern stencils, gold leaf, or hand-sprinkled fairy-dust either)

All-in-all -- a petite boîte (size-wise) containing even tinier pieces within; quite compact -- fitting some 25 of 'em
Aromas 2.4 / 5
Floor cleaner with citrus fragrance, dusty rose, artificial cherry, desiccated coconut & formaldehyde
No genuine upper nose, no sinus tingles, no chocolate to speak of well-conched
cacáo
Textures/Melt 7 / 10
| | |
| --- | --- |
| Shells: | gossamer-thin Semi-Dark, weaker than a mosquito leg, with little snap |
| Centers: | rote; precise ganache body of ¼" thick moist pillows |
Flavor 42.6 / 50
Smooth and assertively flavored centers equates with inoffensive & chocolate-free
Fruit bias (some running to lollipop strength)
Flavors roll in bright clean lemon, grain-free coconut completes the smoothest of oils; crisp orange to cleanses the palate; fresh baby ginger running the gamut from high burn to sensuous heat 2 minutes later

Only missteps: a) textbook praline replete with tooth-grinding sugars reveal sad, stale nuts in the center to remind of breakfast cereals that make some run for the teddy-bear under the blankets; & b) a diabetic shock-inducing milk / hi-sweetness (pancreas may not recover any time soon)
Quality 23.1 / 30
Well executed / textbook.
Bland covertures & nondescript ganaches the staged springboard to some of the most intense & perfect flavor suspensions. Balanced, natural & shockingly chuffed.
Editor's Note to Roussel
: Employ some serious quality coverture(s), amp up the ganache quality, & get ready to kick the big boys in their bonbons (hear them bootsteps,
Cluizel
and
Maison
?) .
Selections
Palet d'Or
- emphasis on
d'or
(french for 'gold') as this round coin, minted in a golden luster, cashes in a candied dried-fruit cake front with butter more than cream ganache for a back; on the money
Fleurs blueus
- very clear pronunciation on the orange aspect (nice marmalade front); strong without overpowering the absent chocolate cover
Tokyo
- a sonic as well as taste sensation; sesame-injected nougatine chews on the ears with its micro-crisp texture to go along with a decidedly lemon-orange tinge (possible over-bleed from the citrus pieces in this tight box); playful
Desirade
- seamless confluence of golden macerated raisin, old rum +
fruit-laden chocolate
(one of the few cocoa presences to breakthrough); a harmonic convergence in a very amber tone
Perle de Noisette
- good by any measure but rather ordinary... the kind of stuff the French confect while snoring in the ear of their adulterous lover
Croustillant
- a Taste & Texture riot breaks out as Roussel throws the whole nut house into this crunch architecture built on praliné (almond paste boiled in sugar), noisette (hazelnuts), nougatine (more sugar/honey, nuts, candied fruit... sans egg whites) + crêpe dentelle (crispy wafers)
Valencia
- pure almond sweetness (almost an orange underside) doubled down in
MIlk Chocolate
; enchanting & haunting
Passion
- yuzu & passion fruit together yield a clear, clean & classic grapefruit fusion, all backed in a
Dark
-on-
Dark
chocolate which prevents the brightness from renting the mouth apart; superb
Andalousie
- hyper-sweet interplay between a gently leaning orange peel & crunchy gianduia, teased together by
Milk Chocolate
Guerande
- butter-rich caramel sans much salt with just a touch of vanilla to open it up
Citron
- daring blend of lemon against a shy ganache backdrop
Gingembre
- slow build ginger… no tooth but clean & lean flavor blend with excellent post-ginger burn
Lait
- ouch-sweet with no chocolate flavor to be found
Reviewed January 30, 2012