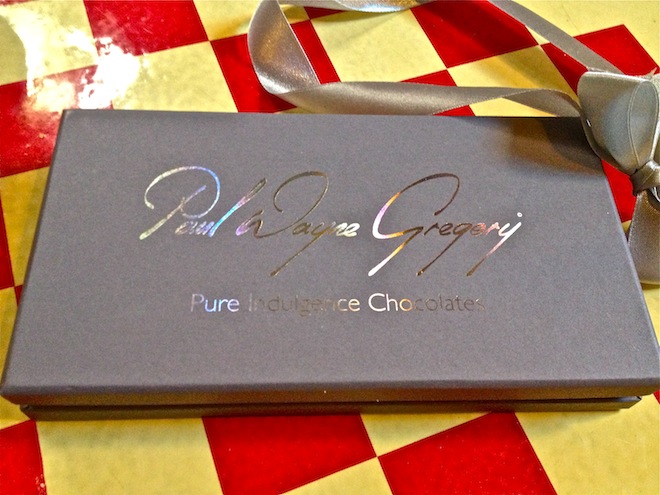 Impact
Just as it is said that more grains are consumed in England for making beer than bread,
Paul Wayne Gregory
uses as much if not more chocolate for sculptural art as for truffles & assortments.
And 3 first names calls attention to his identity: what about a surname? Which might mean he's the Banksy of chocolate. Perhaps Banksy himself.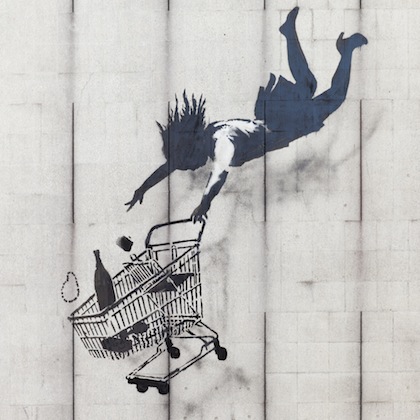 Shop Until You Drop (after consuming the box of choc, of course) by the enigmatic aerosol artist known as Banksy -- a real life Rael from Peter Gabriel's Lamb Lies Down on Broadway -- whose spray cans & stencils occupy sidewalks, buildings, bridges et. al.. around the U.K. because "when you go to an art gallery you are simply a tourist looking at the trophy cabinet of a few millionaires." Auctioneers attempting to sell his work on location leave the matter of its removal in the hands of the winning bidder.
Presentation 2.2 / 5
a surfeit of unnecessary molded plastic trays (i.e., tacky); whole towns in China produce this stuff which poisons their water & present a sure way to leach into the pieces here
otherwise... powdered silver-blue & lavender markings with ribbon to match; almost Mondrian geometry set design; flat rectangular monoliths
overall stodgy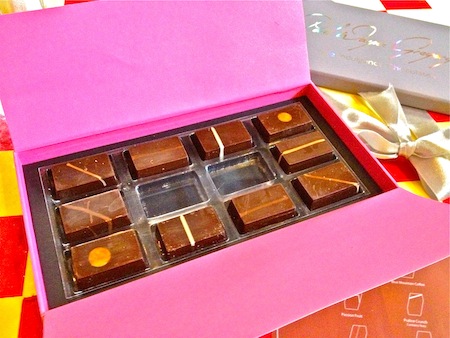 Double-Condomized Chocolate: The Paul Wayne Gregory Collection with plastic sheathing to protect the innards (image courtesy Jane Webb)
Aromas 2.4 / 5
retro-plasticity
pleather + artificial flavors
Textures/Melt 8.9 / 10
| | |
| --- | --- |
| Shells: | thick gauge & snap |
| Centers: | lush body |
Flavor 41.8 / 50
clear & forthright rather than overbearing
without expiration date listed, hard to tell just how beyond the rag end of life this box comes but some pieces show post-prime
Quality 22.6 / 30
Some stellar standouts spoiled, literally, by a few chocolate repellents
Selections
Space Dust Contains Nuts
-- the lone unmarked piece in the box & anything but blank in experiential euphorics as a whimsical Higgs boson wonderfully munching & crunching its way... via pop rock candy set in a gianduia ethernet that crackles & crinkles well beyond the melt-thru & deep into the sinus cavity; Paul Wayne Gregory, choconaut.
Blue Mountain Coffee
-- incredibly / impressively reserved but no getting around the fact that plastic polymers mar the couverture
Mint
--equals non-enjoymint
Coconut
--
Dark
-on-
White
; coconut-patty quality from FLA souvenir stands with a twee pineapple twist at the finish
Passion Fruit
-- a piece most chocolatiers mess up good but Paul Wayne Gregpry outshines the field here with a tremendously thick yet brittle snap juxtaposed on an easy creamy fondant; again, a
Dark
-on-
Light
... the passion & the chocolate fitful & proportionate; an unqualified success that makes up for a lot of the rest of his box
Raspberry
--
Dark
-on-
Milk
with a pretty forthright fruit (all but the pips / seeds) of clear definition including, sadly, a rancid oil after-taste
Salted Caramel
-- quite unique in the vogue crowd that now becomes this benchmark piece; salted-butter as much as caramel, with exceptional chocolate interplay; rich yet light enough weight to spread easily across the palate
Reviewed April 23, 2013