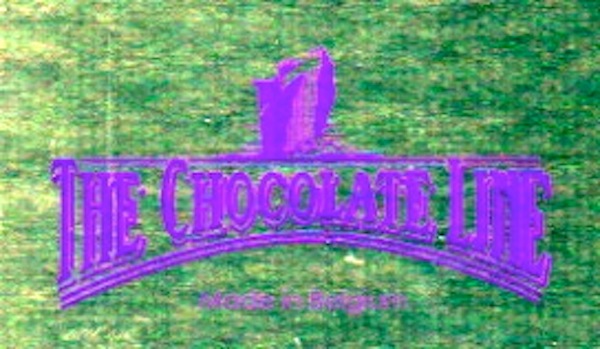 Impact
The banner "Belgium chocolate" once stood for quality (decades ago) until it fell out of favor / flavor while living off the perfumes of the past ever since its descent into mediocrity. Most consumers, especially outside the country, buy it up nonetheless, hoodwinked by its former high status.
Enter Dominique Persoone. So much has been written about the man… a lot of it by himself. Self-proclaimed "shock-o-latier" who sets out not only to reverse Belgium's current misfortunate trend but also to be positively all over it. As in, he puts everything / anything to chocolate. Whatever the combo, the pairing, the mismatch, Dom satisfies the urge, scraches the itch, sometimes running the gauntlet of a collision course. He brokers what the mainstream categorizes an extreme-chocolate portfolio.
For years this site sought to purchase a box of his from overseas, always rebuffed by sommelier-talk: "the chocolate doesn't travel well". Maybe so. A trip & a visit abroad solved that.
But no getting over some of it just gimmicks.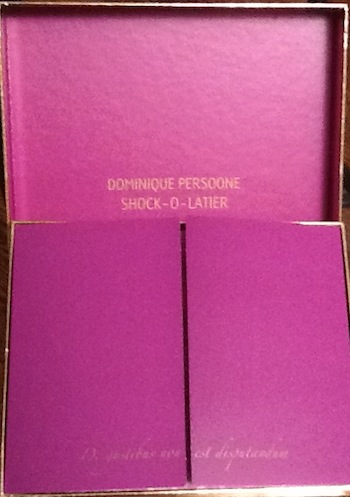 Presentation 3.7 / 5
tinsel-glitz exterior
Joker-Batman lipstick colors just beneath the lid
machine-molded pieces within, most bearing acetate transfers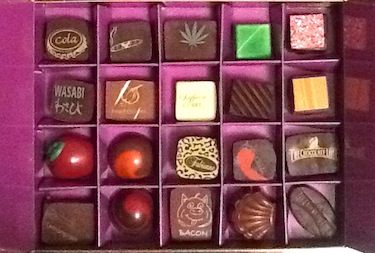 Aromas 2.5 / 5
synthetic ploymers (plastic / vinyl)
Textures/Melt 8 / 10
| | |
| --- | --- |
| Shells: | variable toward the thick side & the occasional paper-thin ala classic French |
| Centers: | many soft exfoliant pralinés, a few gels, the rest medium-bodied ganaches; altogether technically sound |
Flavor 42.4 / 50
bonbons transfixed into dishes, into blurred lines & new taste sensations amidst a couple obnoxious fillings
Quality 23.8 / 30
A mix of classics & currents, the latter quite creative though none unheard of, except for maybe the combine in the Cab (see below).

While conceptually solid, execution falls short in places.

In sum, PR way ahead of R&D.
Selections
Creole
(The Chocolate Line design) - toothsome; virtually no coffee let alone the advertised Arabica espresso; so extremely integrated, the elements all in the service of plain but fine ganache
Carasel
(Nautilus design) -- the name a portmanteau of caramel &
fleur de del
housed under a
Milk Choc
nautilus-shaped shell (get it?); no mistaking the heavy, rich concentrations of clarity that pile onto a butterscotch point; the Dom really brings it here
Fabienne
-- but not so fabulous; a hyper-sweet marzipan mess with a sip of rum-macerated raisins; too much going nowhere
Arthur
-- classic gianduia; an almost black-hued chocolate armor proves meek, thus only nutty sweet
Apero
-- inverse maneuver of
White Chocolate
over
Dark
ganache (rather than the usual other way around) harboring passion fruit & lime (as if they really need each other) plus, supposedly, vodka (hardly evident… c'mon, Dom, pour some, would ya?); nonetheless the bitterish Darkness curbs & allies the fruits with the remaining elements to create a fit ensemble & an unexpected triumph considering the brassy start
Piemonte
-- chocolated hazelnut at its finer exposition; what
Arthur
(above) wishes to attain; moderate sugar, those only-from-Piedmont Italian hazelnuts & a Dark drape that swathes them in roasted-fig tones; classic
Green Tokyo
-- Dark ganache, marzipan & wasabi stacked together; done more for "shock" value / FXs than for any real culinary artistry as the forces never truly align & simply stand side-by-side next to one another
Cabernet-Sauvignon
-- caramel, pignola praliné & Cab vinegar, the latter pure flatulence in an otherwise tempting possibility but for the wine which, again, just gases the whole assemblage into a stinkhole; one more example of shock for schlockolate's sake
Soleil
-- passionfruit, really sweet 'n juicy, brash & brassy yet skillfully contained by both Dark chocolate & sugar; clear as citric sunlight
Cebolla
-- almond praliné with Milk Chocolate accented by crisp dried onions… yes, think onion rings in deep-fried chocolate batter; truthfully, the onions mainly bring crunching textural interest whose own aromatics never direct the flavor until the finish whence they act as a heated condiment; creative
Miss Piggy
-- vegetarians beware… bacon onboard; very similar in taste & texture to
Cebollo
above except this swaps out onions for bacon bits which better comports itself with the rest of the recipe in providing a compatible playmate; finally a chocolate-pig worth praising
Bangkok
-- Milk Choc in & out… super unctuous, buttery smooth butterscotch all the way down with just a perfumed thread of fresh lemongrass & indelible mesh-points along the way instead of the customary disinfectant-strength that most chocolatiers spray on; deft
Apple
-- … pie / cobbler; tart Granny Smith variety cuffed in caramel, White ganache & Milk robe; hyper kid-candy sweet; damn fun
???
-- another praliné-based pieces distinguished by a marijuana leaf-stenciled design… presumably some pharmacologically-inactive hemp seeds; turns out to be just tear-grass -- still hoping for the real thing
Havana
-- ahh, the genuine article… a distillate of Cuban cigar leave framed in a raisin-inflected ganache & shell; immediately strikes as foreign until assuming a tonka bean countenance at the back; almost hot enough to smoke; a complex mouth & mind-opener
Atlanta
-- kola, cinnamon & nutmeg conspire along with (yet another) hazelnut praliné to the effervescent fizz of popping rock candy; a chocolate toy more than all else as Dom's frivolous playful side on full display
Framboise
-- raspberry overkill; tart acid bath without any chocolate support; unprofessional &, worse, reckless
Bollywood
-- in name only as the promised saffron & curry never really materialize in this White-on-White arrangement that, seriously, adds up to
cocoa butter
putty
Pavillon
-- pièces of Valencia oranges that almost scale to morello cherry intensity; perfect dessert salad
Espelette
-- bittersweet marzipan, emphasis sweet, rewarded by some sneak chili which turns up the heat in a pain 'n pleasure sensation; expertly whipped up
Reviewed December 4, 2014