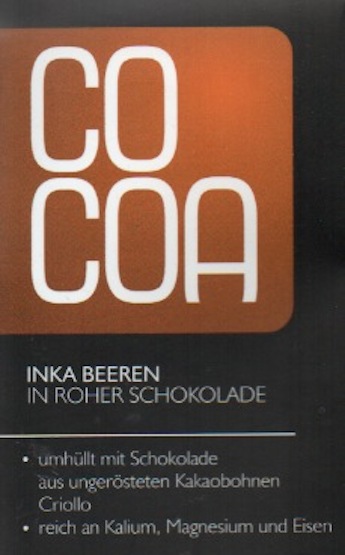 Impact
Looks intriguing from the package, becoming less so as it opens up. Culminates in forgettable pieces & a vow of 'never again'.

An exemplar in chocolate of thanatology — the study of death & dying.
Presentation 4.3 / 5
form & function int'l
designed with global shipping & retail stocking in mind
Aromas 3.1 / 5
cacáo verde ('green cocoa') caused by under processing
Textures/Melt 6.4 / 10
| | |
| --- | --- |
| Shells: | wanting…. |
| Centers: | dependent on the particular ingredient(s) |
Flavor 36.2 / 50
mainly "raw"-chocolate dominant & all the issues therein
Quality 19.8 / 30
Uneven… from the freshness of ingredients to the execution of the formulas.
Selections
BARS
Klassich Bitter
-- another hypster "
raw
" bar utilizing "
Criollo
" from
Peru
; dispatching & dismissing with such
cocoa myth-information
, this 70% bar incorporates "coconut nectar" (re: coconut sugar; think maple / caramel tinges) plus cocoa powder (apparently not raw at all) &, honestly, these ingredients spare the proceedings, smothering up the eventual culprit -- cocoa mass -- until the roots & husks come home to roost at the back & live up to its namesake in any language: bitter
Rohe Schokolade mit Goji Beeren
-- the wolf berry added to a sweeter variant of the above (only 63% cacáo-content), slathered in vanilla & much of it gets lost in the mix in a canceling act; last element standing at the end: the maple-ish "coconut nectar"
Dunkle Schokolade 70% mit Pecan Nusse
-- potentially intriguing construction…. gianduia paste embedded within the smoother chocolate base while chopped crunching pecan bits sit scattered about… if only; instead both hazelnuts & pecans get tossed haphazardly on the slab of "raw" couverture dominated by coconut syrup sweetener which obliterates all else; a bust
Rohe Schokolade mit Kirsche-Açai
-- chocolate at a lowly 60% cacáo-content has little play in this hookup twixt the grape & the berry, both of which conversely play nice to complement each other; deft touch & measured pour to the inclusions
Rohe Schokolade Mandel-Cappuccino mit Maulbeere
-- ambitious ingredient list (coconut sugar, mulberry, coffee & almond); solves the impotency problem of cacáo standing up to coffee by leaving it unroasted which inheres with all sorts of offenses to fend off the other components, although by bar's end even then the coffee takes the upper hand; almonds & mulberries relatively inconsequential
CHOCOLATE-COVERED -- NUTS
Mandelin
-- jumbo-sized almonds enrobed in "raw" chocolate (65% cacáo-content of rubbery consistency) but midget flavor (soft nuts / probably stale); filler
Haselnüsse
-- clear / clean hazelnut pronouncements backed by a chocolate that supports rather than aggravates & thus approximates professional-grade
Brazil Nuts
-- in 70% chocolate; achieves better balance as the brazils eventually overpower the enrobing so by the end the "raw" choc tastes long-forgotten
Cashews
-- soft & meek nuts steamed by added coffee; ditto cocoa; just throw in the pot, liquify & pour a cup; haphazard
CHOCOLATE-COVERED -- FRUITS
Inka Beeren
-- gooseberry, tart / sour as usual, just acidifies chocolate which stands no chance; a total disproportionate mismatch
Maulbeeren
-- where mulberries in the
Rohe Schokolade Mandel-Cappuccino mit Maulbeere
bar (above) came out superfluous, this highlights them, sort of… "raw" choc gets in the way for the first half until mulberries' inherent caramelized-dates take over the progression; still, precious little gained from the paring so better off just sticking to one or the other
Bananas
-- coated in 70% unroasted chocolate (much of it
cocoa butter
) & packaged in English (the company poised for trans-Atlantic commerce); whole dried fruit pieces instead of the banana chips type, a solid choice for its greater redolence which turns back the cocoa base from interfering with the flavorful king of the jungle fruits (well, excluding durian of course)
Message for...
CO
COA
:
to really exploit the North American market, toss all these various chocolate-covered items in a single party mix
Reviewed August 12, 2015