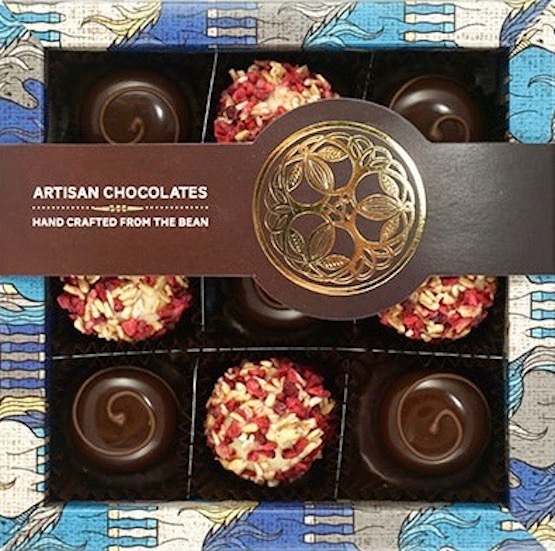 Impact
A bottle of whisky sold for a new world record at auction recently in Edinburgh, Scotland, home of The Chocolate Tree.

Macallan Valerio Adami 1926 brought down the gavel at Bonhams for ~$1.1 million, beating a previous bottle from the same cask auctioned in Hong Kong. (Oh, BTW, the C-spot™ is un-pimped so it can support freedom & Hong Kong... the privilege of poverty!)

Poor chocolate. Even when it contains whisky, it only fetches maybe $10 a bar or $20 a box.

Nonetheless, the C-spot™ deployed its own resident whisky maven -- Rev. Dr. R. M. Peluso (aka Rev.Ron DMC for Doctor of Meditational Chocolate) -- at great expense. No drunk-monk, she sharpened both her choc + scotch skills to appraise this blend.
Presentation 4.5 / 5
Well-executed. Simple mold design, dark chocolate (
Marañón
70%), circular with decorative milk chocolate swirl. Peek-a-boo see-through packaging an enticing glimpse, within a colorful frame, consistent with brand
Aromas 4.8 / 5
unpeated single-malt
Textures/Melt 8.7 / 10
| | |
| --- | --- |
| Shells: | thin yet solid enough to contain caramel center without leakage / oozing |
| Centers: | soft semi-liquid caramel; amazing suspension of whisky; almost quaffable |
Flavor 48 / 50
generous micro dram of whisky to rival
Zotter's Scotch caramel bar
.
Here, it's more about the whisky... hey!, it's Scotland after all.
Speyside Single Malt
works so well as a marvelously engineered sip suspended in sweetness. The 70%
Maranon
shell complements. Sumptuous together yet relatively subdued.
Quality 27.8 / 30
Life-changing.

HOOKED.
Selections
Whisky caramel bonbons. Even those who usually avoid caramels -- ya know, too cloying, too gooey -- should find it really goes together. A kind of miraculous suspension of whisky in caramel, almost sip-able.

Reviewed October 30, 2019