Impact
Just the very word looks Teutonic – long & multi-syllabic invoking some kind of hot forbidden fruit (versus the cold apple of knowledge that Eve bit off). It might fizz up some ecstasy when ensconced between a lover's legs or simply whispered into their ears to heighten arousal (German can be oddly seductive like that sometimes). In a strange way it forms an onomatopoeia – trellises of itself.
Voatsiperifery
... rarest of peppers, so uncommon that as of Winter 2010-11, Wikipedia had no idea of it.
Grows exclusively in
Madagascar
among the "wild" tropical forest (quotes because it's harvested on Åkesson's farm). Only the young shoots on top produce fruits (the 'Voa' rather than 'verboten'), handpicked by villagers – no small feat considering this creeping vine can climb 20+ meters high (roughly a 6-story building).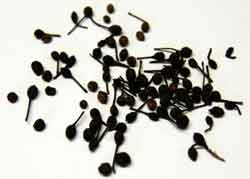 This tree drops these miniature peppers resembling comic-book bombs – little ovals with longer tails – that detonate into earthen & wooded taste, then aftershocks of inherent citrus / floral aromas.
Voatsiperifery... creates beautifully lasting effects without violence (unlike so many chilis that cause destruction, this has bite without the sharp teeth); just a kindling of warm heat, & the rest a reserve of savored flavors in a sturdy, well-built Saab of a bar (Åkesson is Swedish).
Nothing more than alchemy: multi-layed, ornate, & Baroque – the
Sgt. Pepper's
of chocolate.
Appearance 4.6 / 5
timeless packaging, well-designed bar structure yields a handsome chocolate
| | |
| --- | --- |
| Color: | rich mahogany brown w/ orange tint |
| Surface: | clean airside; designer swirls patterned into tic-tac-toe on back |
| Temper: | plastic wrappper transfer (gotta change that, guys) |
| Snap: | another cracker like its brother Black Pepper & resistant too w/ good cleave |
Aroma 8.9 / 10
open the re-sealable inner plastic wrapper to be hit w/ black 'n pink peppercorns against flints of pinewood & silver fir -> goes green on olive leaf, oregano, & anise found in tarragon to conjure up a butcher shop -> orange blossom tonic refreshes the cast before softening into a peppered cedar; touch the naked bar & fingerprints are immediate (that's old skool / low soy)...
Mouthfeel 12 / 15
| | |
| --- | --- |
| Texture: | stiffens on contact then smooth w/ sharply contrasting pepper |
| Melt: | fast melter, excellent mouth dispersion; leaves powder, grits, & granules in its wake |
Flavor 44.2 / 50
peppered cranberries explode off the mark -> blows up pine cones & a cedar chest -> bar loses some definition, randomizes as meat tenderizer (savory herb 'n spice) + souring greens (Granny Smith apple, lime & grape) compete -> lingering orange blossom finale, w/ rose + ylang commingling
Quality 17.4 / 20
Oh, so very refined; highly processed & controlled. A singularly vibrant match in a middleweight 75%. Another pepper mill from Åkesson but this better balanced than
the label's Black Pepper
, greater compatibility with cacáo type & less spice / more taste of tremendous persistence as there are good legs on both.
Could be telling with a rack of lamb + white ale or ca reamy wheat stout to go along. Better still, pair Voatsiperifery with a cacáo of deeper core chocolate than the usual brightness of
Madagascar
(as is, there's really no anchor, though it does, on the plus scale, extend Voatsiperifery's own overtones), & at a percentage more in line with vanilla (typically below 1% because 2% overstates it).
Irregardless, a welcome introduction -
right up there with a new discovery
- & contribution to world flavor.
ING:
cocoa mass, sugar, cacáo butter, voatsiperifery pepper (2%), soy lecithin
Reviewed Spring 2010