Impact
One of the earliest records of pre-Columbian cacáo production in the Americas comes from the Nicoya Penisula (modern
Nicaragua
). When Oviedo conducted his comprehensive survey during his visit between 1527-29, he chronicled how cacáo beans circulated as a kind of currency there in his account titled
Historia General y Natural de las Indias
, including a now rather famous price list:
2 chicosapote = 1 cacáo bean
1 slave = 100 beans
1 rabbit = 10 beans
1 prostitute = 8-10 beans
Note the near equal exchange rate for the last two items.
Hmmm ; makes perfect sense. The rabbit symbolizes fertility; the prostitute... well, in the pre-PC era let's leave that to the reproductive imagination.
According to the
Unofficial Underground History of Chocolate
published right here / right now by
the C-spot
™, this all leads to one inescapable conclusion: Hugh Hefner conceived the Playboy Bunny™ while biting off the ears of a hollowed-out Easter Bunny... in the finest tradition of sex – chocolate – money. Whichever way it's sequenced, it flows smoother than a mantra in a multiplication table –
sex---money---chocolate
chocolate---sex---money
money---chocolate---sex
sex---chocolate---money
money---sex---chocolate
chocolate---money---sex
The legacy endures up to today... regular tricks routinely take bonbons to their prostitutes (or valentines to their lovers for that matter).
Chances are 4 out of 5 that
Josef Zotter
fell under the influence of Hefner's magazine because 4/5 = 80%, the precise cacáo-content in this bar from
Nicaragua
... just lightly adulterated with a quintile of sugar & a dash of salt.
It all adds up & comes together: progress – the more things change, the more vice / virtue share the same coin.
Like Hef, Josef Zotter must be filthy pajama rich.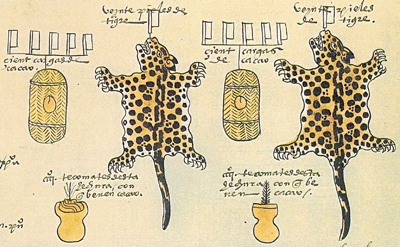 | | |
| --- | --- |
| Color: | deep saddle brown |
| Surface: | Zotter's usual scrapes & scuffs |
| Temper: | low sheen |
| Snap: | tense fracture... Mombacho volcano circa 1570; sharp edges |
Aroma 8.9 / 10
simple love-scent defying its 80% strength: gorgeous groundswell of supple chocolate beneath star anise -> nispero (sapote) in the middle -> eventuates a blue note berry
Mouthfeel 12.2 / 15
| | |
| --- | --- |
| Texture: | bit of an evasive slipknot |
| Melt: | on the quicker 'wham-bam' side of the 80% class |
Flavor 46.7 / 50
dyed in the blue chocolate (fleeting blueberry / jaltomato) shadowed by brownies running the entire length -> mapled fruit (mamey sapote) -> blue agave cactus sweetener -> wild malted plant (amate w/ copal blanco incense) -> small peanut (+ monkey pot too) / smaller seeds (sesame & pili) -> strapping sorghum sap hammers down into deep, darker, more bitter bark (madre negro aka blackwood) -> purple corn outlet
Quality 18.1 / 20
Nothing safe, dull or routine... just singular. Uniquely potent / extreme cacáo; very territory driven (every bit from
the land of a thousand volcanos
) & wickedly thick plant / tree bark sweeteners (resinous / sap syrup) walking calmly on the edge of calamity.
Zotter
, in a high-risk maneuver threads it & tames it – a no-margin-for-error laser-guided roast, low 'n slow at 132ºC (269ºF), then rolled & conched pretty lightly for an 80% yielding remarkable bittersweetness - but in no way house trains it... at all.
In his
portfolio
, he has some hits & misses but this, along with the
Peru 100
, show him becoming a master of the upper percentages.
Development organization Horizont Cuvée 3000 supported his prospects in Nicaragua. Specifically, Bruno Plunger & Doris Knoll guided him into the more remote areas of the backcountry. The Sandanista experience there resulted in a situation rivaling
Cuba
where modernization lags behind, thus sparing some older groves from the onslaught of challenger clones. This leaves fairly consistent
cacáo trees
, by no means uniform, but of overall decent residual
Criollo
germ plasm.
If the Spanish conquistadores, as history leads on, carried cacáo seeds along a chocolate trail that started for them in
Mexico
in the 1500s, running via
Nicaragua
to
Venezuela
during the 1600s, some of which ended up much later at
CRU in Trinidad
for re-importation
back
into Nicaragua, then it might be possible that Nicaragua serves a recombinant quasi-
Criollo
blend of Venezuelan
Chuao
x crypto Mexican-
Porcelana
.
Confused? Well, it all adds up to a veritable rarity.
ING:
cocoa mass, cacáo butter, raw cane sugar, salt
Reviewed Autumn 2010