Impact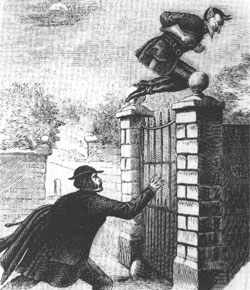 Spring Heeled Jack appears in English folklore as a devilish creature with remarkable leaping ability. After the first alleged sighting in 1837, reports of his supposed exploits persisted into the 20th century & he remains an enduring figure of pop culture today.
This bar sweetly leapfrogs over the rather bruising affair named
Indonesian Black
-- the unsweetened base from which it springs.
Could William Harcourt-Cooze (i.e.,
Willie
) in fact be Spring Heeled Jack?
| | |
| --- | --- |
| Color: | pale (the "creamed" look of Willie's bj-proof Indo-100) |
| Surface: | scuffed & marked |
| Temper: | flat finish |
| Snap: | a bass drum; coarse edge |
Aroma 8.9 / 10
quasi-
Venzy
: soft-buttered nuts (macadamia), hay, & tonka conspire for Snickering caramel -> peppery betel leaf on the rubdown -> aerates some smoke entrails over bosky cocoa
Mouthfeel 11.7 / 15
| | |
| --- | --- |
| Texture: | "4th state" (a sub-conche producing soft Beta IV crystals) |
| Melt: | liquid fast |
Flavor 46.8 / 50
stunning nuts-fruit-cocoa confluence (a sheer vertical stacking copra-almond / strawberry / chocolate) -> sours some, in a good way, on pink grapefruit, then bilimbi (think acidic starfruit) -> bounces off some gum rubber for that ethereal lemon-scent of dammar resin -> hits a cubeb tree & lands in a haystack -> those bosky aromatics re-appear on the tongue with a surprising malted edge -> flushes out orange marmalade -> indelible caramel of stringent grip at the rear recesses
Quality 18.1 / 20
At 69%,
Willie
makes a wheeze decision to peg this in the upper
semisweet
slot, significantly sugaring the austere compounds found in his unsweetened
Indonesian Black
. A sound choice indeed as all those violent volatiles in that bar come beautifully to the fore in this one.
Among the most refreshing
Javas
in a long time.
Willie's contrapuntal house-style (considerable roast accentuates Java's mechanically-dried cocoa opposite a lightly brushed conche) that just nurses
these beans
& really brings up the hues, albeit the underlying cocoa ripples a bit on the murky, even dirty side, rendering a kind of tea-like quality. The upper register however harbors well-defined clarity, so much so that even the exasperating sub-par Texture fails to interfere with the pleasure. In fact, its very liquid pace further enlivens it into a thirst-quencher.
Outstanding.
ING:
cocoa mass, cocoa butter, raw Cuban cane sugar
Reviewed July 22, 2011