Prazone Ziarno Kakao
by
Chris & Tom / Manufactura Czekolady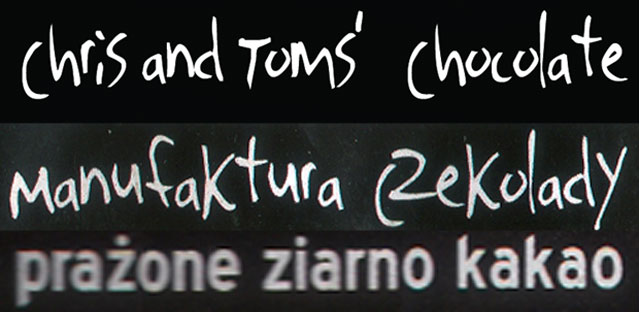 Impact
Poles can be a strange people. Even they admit as much. They never stop complaining. Whether before "The Transformation" & the rise of
Solidarność
when they had more reason to with martial law & Soviet tanks lurking in the backdrop. Or ever since when times have dramatically improved... even those wistful for the good ol' days of Kremiln-directed crackdowns & Big Brother psyches might begrudge the worst forms of rapacious capitalism with its greedy villains feels enlightened by comparison... whatever, they still love to beef.
As do people everywhere. Many of whom will have at this bar & grumble, 'huh, tastes like chocolate'.
Exactly... just like chocolate.
Pure & simple (in keeping with the
8th Law of Chocodynamics
).
And nothing but.
In an overly complicated world, in which people now search far & wide for the most outlandish combos & bizarre novelties to use & then eventually abuse for contempt of the familiar, such a bar as this becomes rather unique.
| | |
| --- | --- |
| Color: | DM territory; paler shade of brown |
| Surface: | backside studded with Nibs |
| Temper: | semi-dull |
| Snap: | right on the button |
Aroma 7.3 / 10
plain: cocoa & wood (resembling Afrormosia aka "African teak" except it does not belong to the teak family; – heavy, dense, durable... with a blue-staining tannin) -> rare smidge of Saintpaulia ionantha (African violet)
Mouthfeel 12.9 / 15
| | |
| --- | --- |
| Texture: | cream-over-crunch |
| Melt: | disjointed fun house |
Flavor 45.3 / 50
fudge -> brownie -> hot cocoa -> malt ball -> lite spice (vanilla + so-called 'grains of paradise' with their cardamom-inflected seeds) -> dissipates some on njangsa (the oily Ricinodendron heudelotti with seeds of chocolate aroma but subtly-bitter taste) -> flirts with biscuits & wafers then reverts to brownie strips scrapped off the bottom of the baking sheet
Quality 18.2 / 20
Prażone ziarna Kakao
means 'roasted cacáo seeds' in Polish. More precisely, for this particular hybrid-bar it's
palonej stalówki cocoa z Ghany czekoladą
or roasted
Nibs
with
Ghana
chocolate.
Technicalities aside, a simplex of chocolate flavor, right in the crosshairs of center point cocoa. Meets most peoples standard conception & expectation of what chocolate should taste like.
Chris & Tom make do with cocoa & sugar & nothing else to put this in a select class for core-chocolate without any other additives (typically ranging from supplemental
cocoa butter
to vanilla & salt).
They roast it right up to the edge without burning it.
A well-done Dark-on-Darker exposé of the pair's
Ghana Grand Cru bar
& Ghanaian Nibs inclusion, the latter eliminating, as expected, any offsets found in that Cru.
ING:
cocoa mass, sugar,
cocoa Nibs
Reviewed November 9, 2011