Impact
Cocoa, sugar, salt & pepper -- 4 elements at the top of the food pyramid since... well, the so-called
Columbia Exchange
when
Columbus & his band triggered modern globalism
roughly 500 years ago.
As per this particular bar, S&P (Salt 'n Pepper) meets O&S (Olive & Sinclair):
♥ @ 1st :-E
But can it last 4ever?
Spring has sprung & everybody knows about hope springing eternal... especially on the vernal equinox.
Appearance 4.3 / 5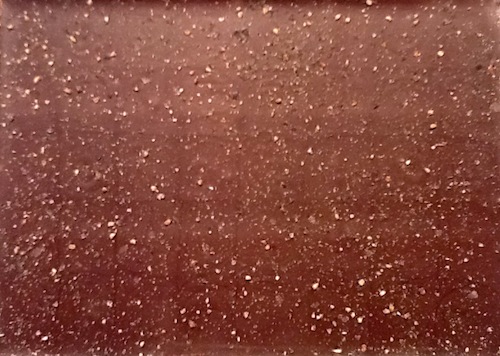 | | |
| --- | --- |
| Color: | just on the Dark side of brown |
| Surface: | salt 'n pepper spangled "bartner" to S&O's Double Chocolate Nibs |
| Temper: | explosive |
| Snap: | fresh cracked & ground |
Aroma 7.9 / 10
enough peppered-leather in this nose's saddle to sneeze a horse
Mouthfeel 12.2 / 15
| | |
| --- | --- |
| Texture: | very much in line with the Snap |
| Melt: | fractious |
Flavor 47.4 / 50
similar opening to
O&S's Double Choc
(very brown sugared chocolate) -> salt the first divergence as it spikes the molasses component in the sugar, savoring it into a sweet paprika -> pepper crouching in the shadows in support (though still very identifiable) -> mineralizes around sodium as chocolate gives way -> crystal clear quartz moment (very momentary), absorbed by a direct black pepper hit -> móle grande (exceptional) -> late (& unexpected) blast of cocoa sets on a sun-dried tomato (stupendous) -> pepper flares back up in a parting ray of heat
Quality 18.2 / 20
That simplex of a
base bar
which O&S re-deploys here, just tasered & teased into a savory complex.
Incomparably fresh as if everything was picked & ground together (in a sense, they were).
The choice of brown sugar so keen & judicious as its intrinsic molasses content bridges the flavor gaps, obviating the need for any vanilla or other additive.
Well schooled, measured & executed.
Among the more superior synergies in the world of chocolate; the individual elements alternately definable & melded to outshine the rest of the salt 'n pepper field (
Mast Bros
for example). And absolutely in league with some of great natural pairings, such as the outstanding coffee-cocoa combos (
Coppeneur's Blue Mt. Jamaica
,
Caffe Nero by Slitti
,
the Santander Dark Chocolate Espresso
, et. al.).
High chocolate artisanship without pretense. Just the opposite: unassuming in a re-assuring way.
ING:
cocoa mass, brown sugar, cocoa butter, kosher salt, black peppercorn
Reviewed March 21, 2012