Impact
For an in-depth investigative report on Intentional Chocolate's operations, partnerships & purported research, see Carla Martin's trenchant account on her Bittersweet Notes site
***************************
Jim Walsh… resurfaces.
The ex-ad exec, & the man largley repsonsible for
reviving cacáo's fortunes in Hawai'I back in the 1980s
, has been quietly plumbing the chocolate depths ever since leaving the Big Island.
His latest project lands him in Yucatán,
Mexico
-- a place of some considerable historical lore for chocolate culture. There, Walsh & his daughters & their partners have teamed up with local governemental officials to re-develop the area's once-sacred cacáo groves.
The group plans to cultivate 2 primary
genotypes
, both labeled
Criollo
. When asked if these 2 have any local trade-name(s), Walsh says 'no'. As to what he refers to them as, he replies "Adam & Eve" (this gives a flavor of the man & a bit of where the conversation veers... hey, it all reverts to the basics, doesn't it?).
During a long & ranging chat (almost 2 hours in length), Walsh is engaging, very knowledgeable, & forward-looking, even a bit esoteric at times. Which affords an opportnity to enter into his adjunct project: until those seedlings in the Yucatán mature in a couple years, he's much about
Intentional Chocolate
.
show more »
show less «
Appearance 2.8 / 5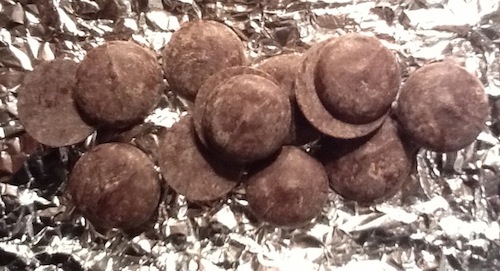 | | |
| --- | --- |
| Color: | frosted bloom field |
| Surface: | baking chips / pistoles in keeping with the idea of chocolate as sacrament (think communion wafer) |
| Temper: | scruffy |
| Snap: | bullet proof |
Aroma 6.7 / 10
comforting malted cocoa & coconut
Mouthfeel 10.5 / 15
| | |
| --- | --- |
| Texture: | brittle wax shards |
| Melt: | fits & stops / dribs & drabs |
Flavor 36.9 / 50
cocoa-vanilla influx (almost searing the throat) -> coconut shells -> wooden back -> turns waxen (carnauba) in concert with its Texture -> strangely begotten black fruit (ill-defined between prune & fig) -> choc-chip cookie finish
Quality 12.6 / 20
Terribly generic... except for... the hidden X-factor "ingredient".
Intentional Chocolate's
promotional materials cite
Hawai'i
chocolate "accented by notes of plum & a hint of ecstasy". But this bar tastes quite un-Hawaiian on several fronts.
Maybe distant shades of
El Rey
from the late 1990s
Venezuela
. Or, closer to home,
Blommer
.
Then, again, so overly-treated with vanilla to effectively mask
any origin
. The volatiles so abrasive they act like clove nearly irritating the throat.
And whether those plum notes, for instance, are additives or spiritually-infused is hard to tell since their apparition seems rather phantom-like anyhow.
By superpostioning itself toward a higher realm & consciousness leaves Intentional Chocolate suceptible to unintended consequences by overlooking the basics of the lower order (such as the fundamentals associated with
artisan chocolate processing techniques
).
Above all, a vexing question persists: why only a hint of ecstasy? Sounds modest given how this claims to provide a statistically-precise increased lift in vigor... by up to 67%.
That's enough to lose the train of thought here... the ability to critique & the power of speech... the very motor coordination skills, such that the act of writing becomes laborious, then pointless; ergo impossible to continue this review.
What a reaction. This chocolate must be working. (Psychosomatic or otherwise.)
It's having its intended FX. The thematic execution undeniable.
Way off-the-charts.
INGREDIENTS
: cocoa beans, cocoa butter, cane sugar, lecithin, vanilla
Reviewed March 8, 2012