Impact
Some people think the Big-Bang Theory refers only to a cosmological event in physics that led to the formation of the universe.
Sex therapists always seem to know better.
For them, the Big-Bang also encompasses orgasmic intercourse. But not to be ignored in the whole constellation of pleasuring-seeking are the 3-Fs: fantasy, flirting & foreplay. Which begs which comes first the chicken or... oh, forget it, because the brain is the biggest sex organ. Turns out that it's HUGE.
Consider: negative thoughts about sexual (in)abilities attend feelings of, & subsequent problems with, performance anxiety. Therapists counsel in this regard to be very firm with the inner critic (that 'undervoice' to use Adrienne Rich's term [R.I.P.] trying to convince 'you're no good'). The internal critic undermines self-esteem by putting up unrealistic expectations.
Tell it to shut up, even when in actuality the experience is no better than this dime-store bagged-product from Los Vásquez,
D.R.
by Agostoni.
Hey, like chocolate, one way or another, whether it's good or bad, you can still brag afterwards about having had some sex.
Appearance 3 / 5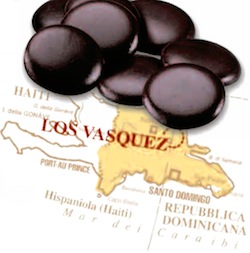 | | |
| --- | --- |
| Color: | for shade geeks -- Pantone 4625C aka 'chocolate brown' |
| Surface: | distressed chips |
| Temper: | distraught |
| Snap: | snaps easier than a disgruntled granny missing her dentures |
Aroma 8.1 / 10
Mouthfeel 13.2 / 15
| | |
| --- | --- |
| Texture: | lube smooth |
| Melt: | timely |
Flavor 43.1 / 50
a chocolate's chocolate, very direct without nuance, save for the vanilla cast, until some yam in the remote recesses -> green banana edged with soft tannic skin -> sweet loquat ending
Quality 15.8 / 20
Sourced from the gentle-sloping Los Vásquez de San Felipe in
The Dominican Republic (D.R.)
.
Where
Duarte
and
Los Palmaritos
are baseline markers in the Agostoni family's Dominican Triangle, the Aroma in this holds the promise of sitting at the top vertex of flavor (outlining the full spectrum from low notes to high fruits).
Instead, those Aromatics fail to materialize; just steadfast cocoa for the most part. Competent, serviceable, professional, & unexciting.
Taken as a whole, Agostoni offers little distinction between these 3 "different" chocolates which the company sources from separate properties in the Dominican Republic. Part of that centers around these being couvertures addled with excess cocoa butter. Another part involves the generous use of vanilla.
So what's the point of their rather fruitless exposition? Perhaps just marketing... hopping on the
single-origin / single-estate
bandwagon.
In any case, good as they are, none display the bounty of the island. Just the opposite, they collectively narrow it in a strange scenario where
D.R.
= L.C.D.
INGREDIENTS:
cocoa mass, sugar, cocoa butter, vanilla
Reviewed April 11, 2012