Impact
Some people will walk over burning hot coals to get to a bar of chocolate. But what happens if the Tony Robbins-type life coach at the other end of line explains afterwards that those very same coals are the chocolate bars?
No need for any GPS finder... it means you've been C-spotted in Ben Tre,
Vietnam
.
Meet Sam & Vincent, 2 guys who took the American dream on the road… overseas. They shelved gigs back in the States for this foreign venture:
Marou
forms a portemanteau of their last names (Maruta & Mourou).
Together they rep yet another in the burgeoning scene of
ethical chocolates
. Ya know, certified organic, fair trade, both child-labor & cadmium-free, untested on any animals except for humans. Fact is a lot of these stack up to a shell game, a capital con ($), run by sadistic Fs to the A, with a veneer of altruism to get over, while all the while screwing underlings.
The choc world is especially ripe with "pre-competitive cooperation" where players wear their love & hide their hatred (RE: happy smiley faces in public / cut-throat business behind closed doors). To be expected from Big Candy execs running multi-billion dollar enterprises. But to be so infected at the artisanal end of the spectrum? Well, one
barsmith
confided in despising chocolate professionals, calling them "scum" (harsh; though this never stops said person from attending every conference & show). Damn, can't even trust a chocolate bar anymore.
Marou operates in the undergrowth of the candy giants that use
Vietnam
as a hedge against potential disruption to their primary suppliers of cocoa –
West Africa
and
Indonesia
– should either of those collapse under political instability & even global warming (which would dislocate the "
20/20 Zone
" where currently cacáo only grows). There Marou identifies & scoops up the, presumaby, better seed lots for their boutique line that pays a premium & in turn delivers higher quality produce which, in return, fetches a significiantly higher consumer price.
All's fair; opportunistic (nothing wrong with that per se) & wise too (Sam & Vincent are informed beyond their experience; quite aware of the pitfalls in the industry & the marketing tendencies that often frame little more than a sham).
This duo puts the lie to so many development models, both as an indictment of them & as a way to justify their own M.O. / status:
"At the end of the day certification is by definition a bureaucratic exercise: a) set norms, b) put in place standards to verify the norms are being upheld, c) be able to bury any query under a ton of paper… When dealing with a family on a orchard of just a couple acres, maybe with few hundred cacao trees, some other marketable crops, a pond for raising fish, a pig or two + some chickens running around the vegetable patch, the whole certification regime appears absurd."
As such Sam & Vincent harbor a real appreciation for chocolate culture & their responsibilties towards it. While most
barsmiths
in the USA or Europe hang upside down in their caves like noctural bats, Vincent & Sam operate in-theater / on-the-ground which presents its own set of challenges, such as maintaining bar temper in tropical climates.
Just shy of 100% vertically integrated (although that could be in the cards), Marou mans the frontier of cacáo development in Vietnam's emerging economy, working directly with growers / Bromans, providing input on post-harvest methods, then rocking out some craft-bars back at their lab. They dig down into the dirt & yet their hands are clean, leaving behind the muck of certifiers -- the ones who demand thousands of dollars for co-ops & companies to affix their version of the good housekeeping seal-of-approval on products that end up on store shelves.
Marou: Vietnam's first boutique barsmith. Emblematic of 'choc 'n roll' (rock 'n roll chocolate… luv it so here's another dime for the mouthbox, baby).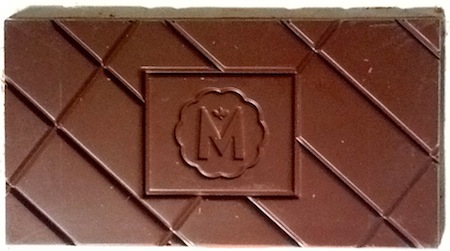 hefty bar feels heavier than its 100 grams; & too the adhesive on the wrapper... a superglue epoxy of dental polygrip strength
| | |
| --- | --- |
| Color: | cinnabar rouge |
| Surface: | brushed airside with subsurface bubbling |
| Temper: | hazy |
| Snap: | a cleaved reed; lightly striated edge |
Aroma 6.4 / 10
if this bar were a bank check it'd bounce all over the place: dense cocoa inside rubber latex & coal deposits + some yeast / bacterial funk...
Bacillus ssp.
for starters feasting on fruits & flowers (durian / akebia [whose pulp = aguava-scented tapioca] + valerian / canaga [the latter with its deep foral note over a bed of cream], add
Rafflesia arnoldii
– largest flower in the world aka 'corpse flower' b/c it smells close to rotting flesh) -> the cinnamon-meets-anise likeness of perilla & the herbaceous-leather behind mugwort
all reminiscent of
Scharffen-Berger's Ben Tre
aromas, just more pronounced
Mouthfeel 10.8 / 15
| | |
| --- | --- |
| Texture: | notceable grain to the hard wax |
| Melt: | some puckering rip to the stringent grip at the finish (Ben Tre or Ben Gay®?) |
Flavor 36.5 / 50
brownie dives straight into a sugared sweet spot (loquat) -> simulates jack fruit -> charred coal bits -> mild fruiting (mango & the aforementioned akebia), the charred ashes + fruit acidity = "ash-cidity" -> coal deepens & develops into a sinking tar pit in the melt thru -> mounting guava stringency ->
cocoa butter
balms the bitter embers (& any flavor too) for a faint bamboo -> brief & very late stage licorice-tea
Quality 12.7 / 20