Impact
Regular subscribers to
the C-spot
®
will recognize pili nut from another
bar
that inherently exuded it in the flavor profile rather than being an additive to it.
Just one of the many color descriptors on this site that impelled a reader to go to Google & Wikipedia before writing us that "your reviews leave me exhausted & uninformed." (A bit of a contradiction as well as a paradox, doubly so considering this person emails us for yet further info on our reviews.)
In the world of chocolate critique where so much copy steals from oenophiles or, worse, rote foodie talk which usually boils everything down to 'tasting-by-numbers' & meaningless spittle (hence
the C-spot
®
List of Banned Words
), exposing people to a little exotica would seem refreshing. Ya know, a break from the strawberries, cherries, & raspberries routine.
For chocolate lends itself to so much more.
When it comes to
cacáo
(the tree from which chocolate derives), whose natural habitat is the
Amazon
, how can it be otherwise? Chocolate ain't wine, the simple stuff of grapes grown in the vineyard or backyard garden. This is the jungle, baby.
Much of humanity's diet, as well as medicine, originated in tropical rainforests. Its bounty has gifted innumerable fruits: avocados, coconuts, figs, oranges, lemons, grapefruit, bananas, guavas, pineapples, mangos & tomatoes; countless vegetables… corn, potatoes, rice, squash & yams; spices galore starting with black pepper, cayenne, cinnamon, cloves, ginger, sugar cane, tumeric, vanilla. Nuts too, including Brazil nuts, cashews, &, yes, pili. And, of course, cacáo. Incredibly, 3,000+ different fruits grow in the rainforests. Of these, maybe 200 appear on tables in the "First-World". Compare that to Amerindian forest-dwellers who eat over 2,000 in a lifetime.
Additionally, a bit of an ulterior motive operates here. Such abundant bio-diversity might lead to an appreciation for places like the Amazon, which in turn could promote rainforest preservation. And that naturally helps the planet. Humanity can probably survive deforestation but life's better with it.
Yet one more reason to adhere to that bumper sticker:
Save the Earth, It's the Only Planet with Chocolate
.
If done right, this will also build social bridges in the process between agricultural producers in the South & food consumers up North.
And for those scratching their heads, 'what the hell is pinipig', just Google, Wiki or read on to the
Quality
section below.
Appearance 3.5 / 5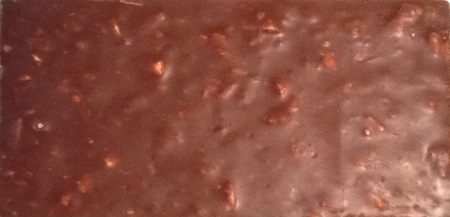 | | |
| --- | --- |
| Color: | orange umber |
| Surface: | see photo above |
| Temper: | surly |
| Snap: | strangely subsonic |
Aroma 8.7 / 10
pretty unique: hay, grass & rice overlay a more traditional
Milk Choc
with warmly roasted nuts spiced by tonka
Mouthfeel 12.4 / 15
| | |
| --- | --- |
| Texture: | Rice Crispies® |
| Melt: | quik |
Flavor 42.3 / 50
malted rice syrup -> Cocoa Puffs® -> Kit Kat® -> pili (with its resident almond / pumpkin seed tone, the latter doubling down on the green note of the pinipig)
Quality 15.8 / 20
Very comforting & familiar despite the unusual inclusions.
Pinipig is glutinous rice harvested as young shoots then winnowed, toasted, & pounded into oat-like flakes that are green in color. It has a rather moist feel & redolent of a sweet, creamy roasted fragrance. Some consider pinipig the "essence" of rice.
Along with the crunchy pili nuts, together they add texture, taste & overall substance to
Theo & Philo's otherwise frumpy plain Milk Chocolate
.
Hi-brow candy, Filipino-style.
INGREDIENTS:
sugar, cocoa mass, milk powder,
cocoa butter
, pili, pinipig, vanilla
Reviewed October 24, 2012