Impact
VD
You know you have it. We all do. No, not that… but Valentine's Day – that special date when humanity, engaged in a conspiracy of love, feels compelled to give heart-shaped boxes to prove our affection. Break-up from
Godiva
or the "
raw
" bar loaded up with pathogens, & that clinical-Cassanova geeking on about
cacáo's
"love compounds" found in "sultry chocolate" like the "bliss chemical" anandamide (a cannabinoid neurotransmitter released in the brain while feeling great) -- none, btw, in high enough concentrations to be aphrodisiacs by their lonesome. (Pssst, the secret to chocolate's FXs is in their symbiosis.)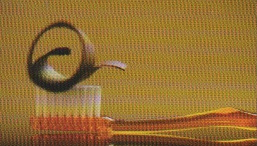 This VD tell that special someone "you're more than a little bit all right" & put your love in a tube… of chocolate toothpaste.
Theodent® harnesses the power of cacáo -- specifically the active ingredient theobromine (an alkaloid belonging to the methylxanthine class) -- to build healthy teeth. Reduced here to its pure isolate, it protects teeth against decay, hardens enamel better than fluoride, & encourages maximum re-mineralization. Thank Dr. Arman Sadeghpour at Tulane University in New Orleans for this sweetest scientific discovery.
Not only does his Theodent® promote oral hygiene, it makes the act of brushing better than a dozen roses. After a li'l dab, it'll be all lip-locked, the gateway to... well, Theodent's
®
completely non-toxic which means you're free to swallow.
Muahz,
the C-spot
®
Appearance 4.8 / 5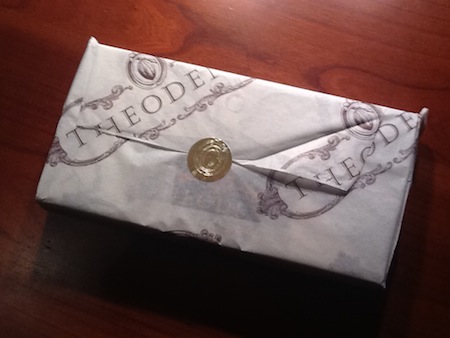 You've Come a Long Way, Boy: designer toothpaste has arrived... wrapped fit for NM or Saks
| | |
| --- | --- |
| Color: | egg shell with a touch of pink pearl (from mythical Criollo seeds?) |
| Surface: | slick |
| Temper: | glycerin |
| Snap: | n/a |
Aroma 8.2 / 10
chocolate cake frosting / icing... roasted cocoa note (probable
Côte d'Ivoire
)
'chemineral' back (the acitve ingredients hydrogen / calcium coming thru)
Mouthfeel 12 / 15
| | |
| --- | --- |
| Texture: | lotion... excellent spread across the pal (for palate) |
| Melt: | instant on contact & thin |
Flavor 42.8 / 50
mainlines chocolate with good vanilla draw, strong & long... gradually dilutes ever so slowly... making room for metallic traces (probably titanium &/or stevia) -> slight cooling sensation (sorbitol + citric acid) -> dusted cocoa tickles the throat -> clear film finish
Quality 17.1 / 20

Building on the launch of the mint-tinged
Theodent Classic
, Rennou releases this chocolate-chip flavored toothpaste.
Technically for kids, but why should they have all the fun stuff, especially if effective for adults? Teenagers, 30-somethings, & elders can be Theodent Kids too. In fact the instructions advise as much.
Realistic; decent chocolate flavor; better than many a so-called "fine chocolate" bar & priced accordingly (~$12).
Best of all, data indicates it actually works.
INGREDIENTS:
Rennou (proprietary theobromine, calcium acetate, & sodium hydrogen phosphate), water, hydrated silica, sorbitol, xylitol, glycerin, xanthan gum, citric acid, sodium benzoate, titanium dioxide, stevia extract, sodium bicarbonate, sugar-free chocolate, vanilla extract
Reviewed February 13, 2013