Impact
A quasi-covert op for Amma-Darshan (Mātā Amṛtānandamayī Devī; né Sudhamani Idamannel), professional hugger.
No, not a tree-hugging activist fighting against enviro-terrorism, but Supreme Motherhood leading a selfless life of dharma yoga attained thru scripture & meditation:
"Spirituality is the practical science of life. Apart from taking us to the ultimate goal of self-realization it also teaches us the nature of the world, & how to understand life & live fully in the best way possible."
As
the C-spot's
®
own staff minister, Rev. Ron DMC (she the
D
octor of
M
editational
C
hocolate), preaches:
take comfort from Jewish & Buddhist teachings which do not condemn eternally. Do
tseuvah,
which is to say, achieve forgiveness & stop creating karmic retribution by changing behavior for the good.
These guys behind this bar – the 'Browns Brothers' from another mother,
Diego Badaró
&
Frederick Schilling
-- appear positively hell-bent on just that.
This, then, is their crowd-hugging kickstrter that encompasses a global embrace.
100% Pure "
Amma
". Nothing in this biz says love more.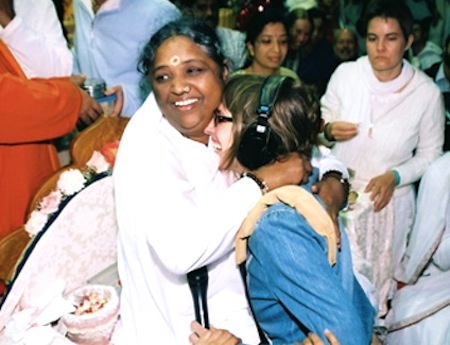 Hearin' It AND Feelin' It: Gen Txt'g-'n-Driving wired-up for a plug 'n hug
Appearance 4 / 5
| | |
| --- | --- |
| Color: | browned butter |
| Surface: | release mark the size of a thumbprint; signed by the badd man of choc himself -- Diego Badaró |
| Temper: | relaxed |
| Snap: | bomp! |
Aroma 9.4 / 10
If a tree falls in a forest & no one is around to hear it...
may be a thought experiment but the scent can be picked up from continents away... from
Mata Atlântica
to Manhattan
a giant stack of timber just ramrods the nares, crushing the nasal septum (composed of cartilage) that separates the nostrils
think major alluvial woodlands; less fermented than swampy
wholly
Brazil
Mouthfeel 13.7 / 15
| | |
| --- | --- |
| Texture: | fleshy as the clutch of some flabby arms |
| Melt: | soft (not pasty) but still won't let go |
Flavor 45.1 / 50
slow attack... held up by
CB butter
brakes which acts, alternately, as a biriba &/or jackfruit fakey -> latent cocoa -> cowering fruit (ground cherry? pitanga?) -> cools to slight metal tinge -> mild mineralization sets it... back iron bite -> chicle gum (this bar's bliss point) -> a meat hook of a close, grilled over some eucalyptus bark -> easy stringent pull into the marshlands for the after-linger
Quality 15.9 / 20
The light of darkness. A
semisweet
100 -- almost unheard of.
Massive
butter
pad added (either that or
Diego & Fred
selected some obese
cacáo seeds
from several surrounding groves in the area with super-fat content). Well above the stated
CBS
(
Cocoa mass / Butter / Sugar ratio
) of 9:11:0. Whatever the case, it elevates the perception of sweetness (which in actuality hardly exists).
A little too overly buttered in fact to qualify as a 100%. Ideal for those afraid of the most "darksome" -- expecting the horror fest of chocolate to break out but treated instead to a chick-flick. So much so the profile tastes somewhat emasculated & in need of getting its pods on.
Sensitive; in keeping with the properly trained male model of the new millennium. Like him on FB; take him home to mommy; but one to marry?
INGREDIENTS:
cocoa
Reviewed April 19, 2013