Impact
The
January 2013 issue of the C-spot® Newsletter
featured a piece on
a Cravve bar containing cocoa sourced from Solomon Islands
. Their MInister of Agriculture seized upon it & his office issued this press release: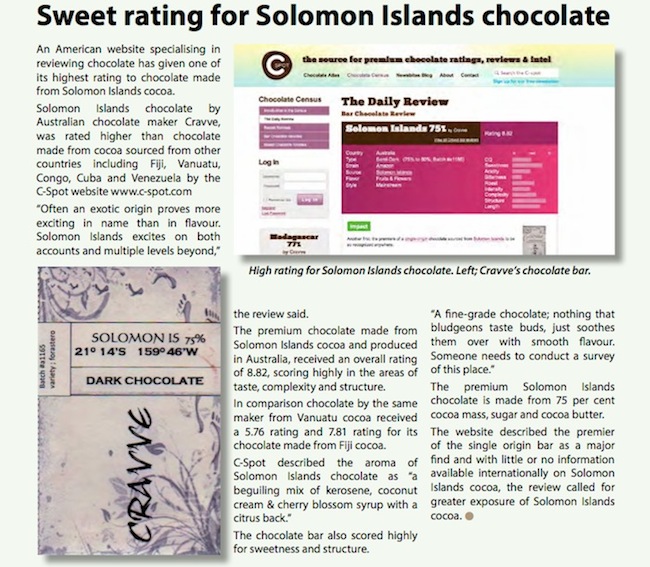 Who knew that with such a modest chocolate platform like this website comes responsibility? That it, however partially, might intertwine with the livelihoods & perhaps even fate of cacáo growers / bromans half a world away?
The strange power of the internet.
In other words, forcing these pages to, gasp, be more mindful.
Can this site handle that?
Chocolate's supposed to just be fun &
flavor
, the stuff of amusement parks, desserts, sports drinks, & kissy romance. What had this meager effort, started by an anonymous dumb consumer-turned-chocolate bigmouth, to cover
the world of chocolate
morphed into? A job? A career in chocolate diplomacy?
Innocence lost; sinking with the realization that the universe can be a conflicted place. Maybe Big Choc has it right after all, seducing people via a hefty dose of sugar to convince all that chocolate's just candy
Think we really believe that? Hah.
O, the massive weight of chocolate. Thanks to every subscriber, reader, & lurker (the NSA sees you) who helps shoulder the load... emotional & otherwise.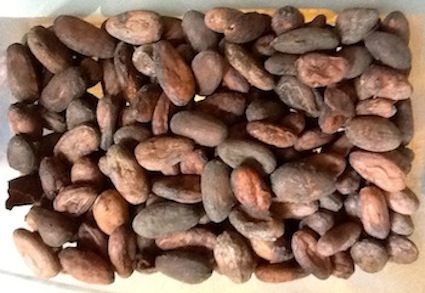 | | |
| --- | --- |
| Color: | light-umber to even a pink-sepia on the semi-thick shells; uniform shoe-polish brown beneath |
| Surface: | medium sized with some larges |
| Temper: | relatively clean with only moderate incrustation |
| Snap: | n/a |
Aroma 7.2 / 10
a few drops of ferment sweat -- slightly favors ethanol over acetic acid for a corn-nut sense
otherwise quite dry -- paper & cocoa husks
Mouthfeel 12.4 / 15
| | |
| --- | --- |
| Texture: | spongey... |
| Melt: | .... relapses |
Flavor 45.4 / 50
very vegetal
palm fronds & banana leaf -> kangkong (aka water spinach) -> oxidizes bitterness (arugula) in a light saline solution -> thin latex with its chicle -> morel mushroom -> oolong tea -> lactic acid
Quality 16.1 / 20
Nicely composed. From the taste of it, the soil around the cacáo groves on
Solomon Islands
must be nitrogen & sulphur balanced for such herbal green output, with slight alkalinity (that middle bitter).
Easy to glean how
a mild, even milky, chocolate
may be crafted from these seeds.
Zokoko
participates in an exchange program thru the local SOLKOM organization, engaging in technology transfers for raw materials. The
barsmith
aids in seting-up advanced practices encompassing traceability, solar drying, monitoring weather, pH levels,
pulp
sugar content, & fermentation grading. Beyond direct trade, their efforts promote a double C-spot: Collaborative Cacáo.
INGREDIENTS:
cocoa nuts
Reviewed July 25, 2013