Impact
UPDATED / UPGRADED REVIEW:
The following review features a pair of Holy Cacao's unsweetened 100s, both from Peru: a) Juakjui, San Martin released in 2013 & b) Marañón-Piura Blend in 2016. Overall rating & metrics at upper right reflects the latter bar only.
*********************************
Disintermediation at its purest.
In an industry where 97%+ of the commodity meanders a long circuitous route from its point of origin, Jo Zander of
Holy Cacao
travels from Israel to
Peru
himself to procure these cocoa nuts that find their way into this bar.
No big brokers, major export agents, or third party traders. In fact, Jo purchased a plot of land there, planted 5 hectares of "naturales" & grafted another hectare with a new hybrid (ICT 1099 based on
Contamana / Scavina
rootstock out of the Tarapoto research center).
Beyond direct straight-from-the-source cacáo, Zander practically delivers an I-V drip of it.
100% -- because obviously any transaction that involves a go-between is to him... well, just too damn
indirect
.
Appearance 4.4 / 5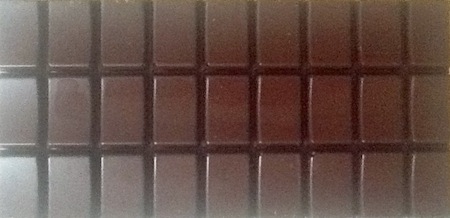 | | |
| --- | --- |
| Color: | light-medium for the percentage |
| Surface: | scored in a rather unusual 9 x 3 grid; each tile slightly beveled which... |
| Temper: | ... furnishes an extra dimension of motion to the gloss |
| Snap: | direct to/from the source |
Aroma 8.8 / 10
Juanjuí, San Martin
classic forest floor... clean dirt / good
Earth
material with rich topsoil, mushrooms, micro-flora & fauna
musk & coconut furnish, oddly enough, some levity to the density
well-ground spices
Marañón + Piura
big hardwood bull swinging huge nuts
airs out to banana bubble yum & putty
Mouthfeel 13.9 / 15
Texture:
primordial plasma
Melt:
slow as molasses?
no, molasses ain't this slow
this slower than eons
Flavor 44.1 / 50
Juanjuí, San Martin
brief sweet choc shifts to cocoa dust, then further to dry cocoa tannins -> fleeting
cacáo pulp
-> grows heavy metal - cadmium, magnesium, iron as the hemoglobin aspects of cacáo take over... a bit of a bitter bloody mess splatters the walls of the oral chamber -> peripheral coconut spares the tongue of deeper lashes without abating them altogether because the proceedings continue on, just at a more tolerable level... coconut comes fore as harshdown gradually recedes in intensity though not in memory -> slightly sour / citric greens at the tail (purslane; arugula) mollified by roasted nut oils -> departs on a shuddering parting shot: straight hit of potassium & zinc -> very latent residual cocoa in the deep shaft of the bunker
Marañón + Piura
twee mint sprig, then those bubble yums in the
Aromatics
the first real initial hit -> strafing acid streak generalized as time elapses into lime.... meets sisal twine -> settles into more
Earthen
elements including mineralized topsoil & fungi beneath that lime layer -> tartar vinaigrette -> a single cumin seed -> caps it all with allspice
Quality 17.3 / 20
Pretty true of the very
source
. Whew.
Been awhile since any
barsmith
delivered such a ferocious bite. Probably need to cast back to
Coppeneur's rottweiler of a bar from neighboring Ecuador
.
WARNING
: not for the faint-hearted. Experienced users only.
Funny, the bark (i.e., its
Aroma
) is almost puppy-like compared to the actual
Flavor
, the latter relatively un-ameliorated / un-manipulated.
Definitely a test of will & stamina. And yet it rings with honesty. The ferment rather correct; the drying free of molds & mildew; the processing, as noted, quite unadorned though
Holy Cacao
does smooth the edges -- somewhat -- to sharpen the teeth. It renders a sense both cultivated & non-domesticated, of hearth & forest. Which all let this
cacáo
off the leash in having its way around a public park where strollers, joggers & bystanders might be terrified but at least they'll get a taste of the wild without having to leave their "civilized" confines. Which means, should it be necessary, help is only a 9-1-1 call away.
Holy cacáo indeed; say some prayers.
Invigorating.
Marañón + Piura
Geographic proximity (both
Piura
and
Marañón
in northern
Peru
) belies each other's organoleptic distance as these 2 cacáos are quite different.
Piura's lower base compounds pulls & pools Marañón's volatiles in a logical match, a good tight suture (though short of seamless), for a savory admixture. Damn savory... perhaps the savoriest of all 100s.
INGREDIENTS:
cocoa mass
Reviewed October 17, 2013
Revised July 19, 2016